Before boarding the Nautica, in London, we toured the nearby city of Winchester, where we observed the beautiful guildhall, Winchester Cathedral with its Norman Romanesque-style and English "Perpendicular-style" elements; and the Great Hall, the only remaining portion of the former Norman castle. We saw the "original" Roundtable of Arthurian legend (actually created by Henry VIII to impress a visiting continental monarch) and walked the bustling cobblestone main shopping street filled with a lively little street market.
Bruges and Rotterdam
After boarding our ship, we enjoyed dinner with a couple of ladies from Swansea, Wales, followed by a good night's sleep that prepared us for our tour of Bruges (Brugge in Flemish, the local language). This little city is a jewel of historical architecture—a living outdoor museum—and one of Europe's most prosperous and important cities from the 12th through the 15th centuries. Bruges was a founding member of the Hanseatic League and a major trading center more important in its time than London or Paris. Due to the silting of the river that connected the city to the North Sea, according to the literature, or to a punishing edict from Austrian Emperor, Maximillian, according to our tour guide, the city lost its status and prosperity, and slumbered for 350 years before 19C tourism inspired a second life.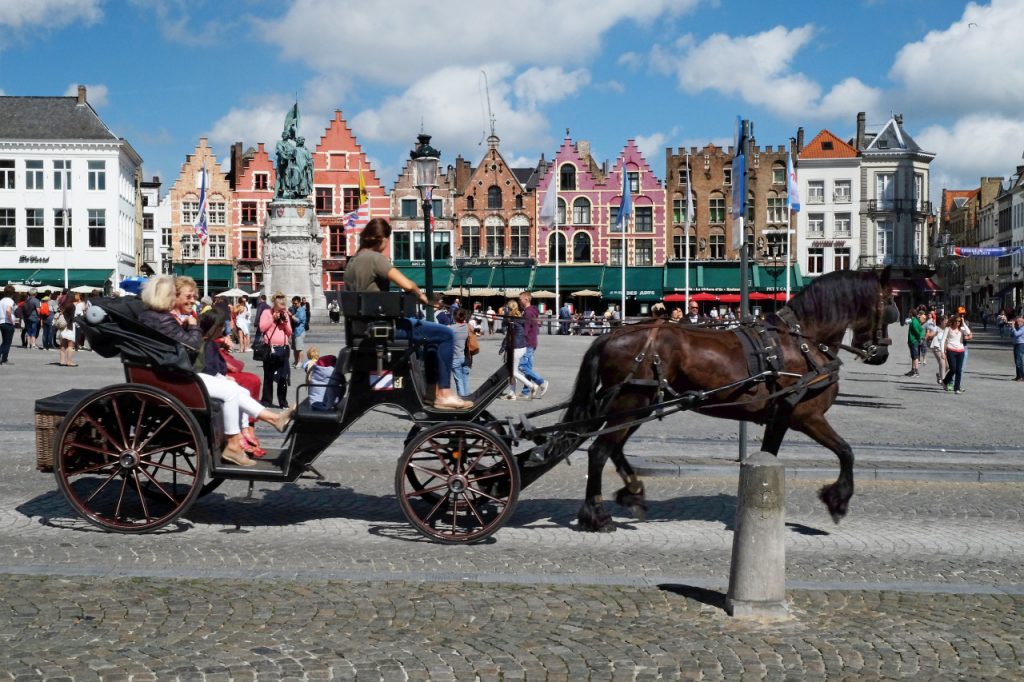 Back on board, we enjoyed engaging conversation with a New Zealand couple of Croatian heritage, talking of travel, genealogy, and even politics! We sailed from the port of Zeebrugge, arriving in Rotterdam in the Netherlands, next morning, on the River Maas. We rode the shuttle into the city center to the large outdoor market selling everything from flowers to fish to shoes to appliances. Rotterdam also boasts some distinctive modern architecture (the historic city was pretty much destroyed by bombing during WWII). We were captivated by the new market hall, which houses more upscale food vendors and some small restaurants in a cavernous space the size and shape of a dirigible hanger! The hanger's curved walls are filled with apartments.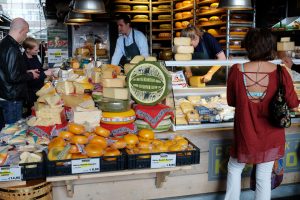 Our walking tour of Gouda, a pleasant little city, took us through the historical city center, past the Sint-Janskerk (St. John's Church), a huge brick structure erected following a disastrous fire that nearly destroyed the town in 1552. We passed Museum Gouda on our way to the Town Hall, dating from 1438, where we witnessed the carillon with mechanical puppets depicting Count Floris V granting Gouda its town charter in 1272. At the De Goudse Waag, the historical weigh house that now serves as a cheese and crafts museum, we viewed a film on cheese-making and sampled local cheeses.
We set sail that evening for a full day on the North Sea, heading for Denmark.
Copenhagen and Karlskrona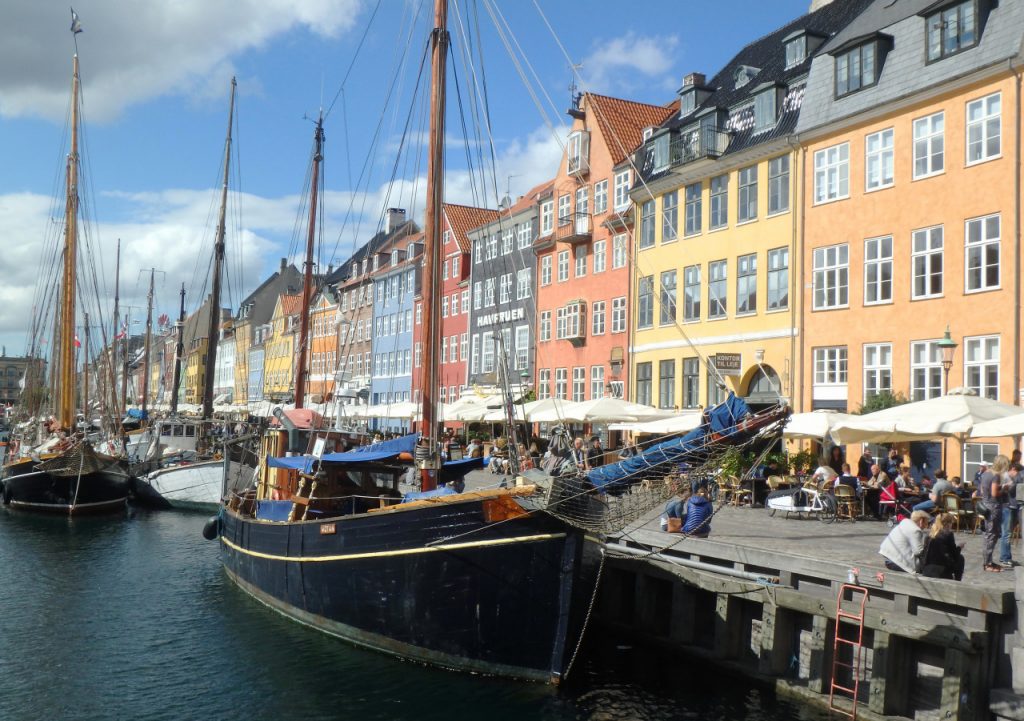 Scheduled to arrive at Skagen, at the northern tip of Denmark, 30-40 knot winds and 15-foot swells convinced our captain, after determining that the local pilot had never docked a vessel under these conditions, to change the plan and continue on to Copenhagen. Docked at Langelinie, near downtown, the pedestrian- and bicycle-friendly city is easily accessible. (We regretted missing a chance to see Skagen, a picturesque fishing village cum artist colony, but c'est la vie!)
We arranged to meet Janet's cousin, Tom, the next morning, and after meeting him for coffee and "Danish," we set off on the tram for Rosenborg Castle, a place he said we shouldn't miss. Situated within a large garden, the 17C castle served as a royal residence, and it seemed as though the royal family had only just left for the day. Furnishings and decoration intact, it's one of the best "house museums" we've ever visited. And then there's the Treasury, an underground vault housing the Danish crown jewels. Not so opulent or numerous as Britain's, they are nevertheless exquisite, gleaming, and befitting Danish reserve and style.
A short walk to Nyhavn yielded an al fresco lunch accompanied by a brief shower, a walk along the tiny harbor with it classic boats, and a visit to the Amber Museum. After a stroll along the Stroget, Copenhagen's famous walking street, and a beer in an Irish pub, we bade farewell to Tom and headed back aboard, as Tom headed for the train home to Bastad, Sweden.
The next day we visited the port of Karlskrona, a charming and historic little city and home port of the Swedish Navy for over 300 years, founded by King Karl XI in 1680 specifically to relocate the Swedish fleet south from Stockholm, where it was often ice-bound during winter. Lars, our guide, introduced us to some historic buildings that remain on the Naval Base, including the 1692 Repslagarbanan, or ropewalk, a 320-meter-long wooden building where ropes were produced for the Navy until 1960. Lars explained how an early dry-dock had to be bailed with buckets because pumping technology was too primitive, and escorted us into a cavernous post and beam structure that once housed ships under repair.
Karlskrona is laid out in a grid mostly on the island of Trosso, and several smaller nearby islands. A large main square is bordered by two large churches and the town hall, while much of the architecture is 18C Baroque-style, making for an appealing town with its history and jewel-like architecture, in a very scenic setting.
Lithuania
We knew the least about Klaipeda, Lithuania's only seaport, pronounced clay-puh-da. Founded by Teutonic Knights in 1252, it was a German (East Prussia) city for most of its history, and some of the old town architecture resembles German styles of the era, including some "half-timbered" buildings. Our excursion here included a coach ride to Palanga, a resort town about 30 kilometers north of Klaipeda, where we walked through a wooded botanical garden on our way to tour the Amber Museum, and then we strolled a pedestrian promenade leading to the beach. Back in Klaipeda, we enjoyed a beer at Katpedele, a historic restaurant/pub, and strolled the streets of old town. Al fresco lunch on Theater Square featured traditional Lithuanian potato dishes—not exactly to our taste.
Latvia
Riga is the largest city in the Baltic States and Latvia's capital, an historic city and once a member of the Hanseatic League, a commercial league of trading cities around the Baltic and North Seas, founded in the 12C. We were surprised to learn that Riga is situated on the Daugava River, several miles inland from the Gulf of Riga. We spent our time here in the old city, a World Heritage Site, which is compact and paved with cobbles, though walkable, with picturesque squares and beautiful architecture. Many buildings date from the late 19th and early 20th centuries and reflect perhaps the largest collection of Art Nouveau architecture anywhere.
Estonia
Estonia's capital, Tallinn, appeared out our porthole in the morning after an eventful overnight sail from Riga. Early to bed, we were startled to hear the captain on the public address system announcing a detour as we set out to rescue a distressed pleasure craft. In the morning we learned that a small sailing vessel, without sails, lost power and was stranded in fairly heavy seas. Nautica's crew brought two people aboard until the Latvian Coast Guard arrived to take them back to port.
Tallinn is another of those Hanseatic trading cities with a complicated history. The city was ruled by Danes for 125 years, by the Teutonic Knights for over 200 years, by the Swedes for 150 years, and by the Russians for another 200 years. until Estonia became independent following the Russian Revolution. Throughout most of that time the city was known as "Revel" and was populated largely by so-called Baltic Germans—mostly merchants. We looked forward to wandering the streets of this vibrant city of about a half-million, especially the narrow, cobbled lanes of the World Heritage old city, considered one of the best-preserved medieval cityscapes in Europe. We toured a couple of beautiful churches, and admired the town hall square and the largely intact defensive wall and towers.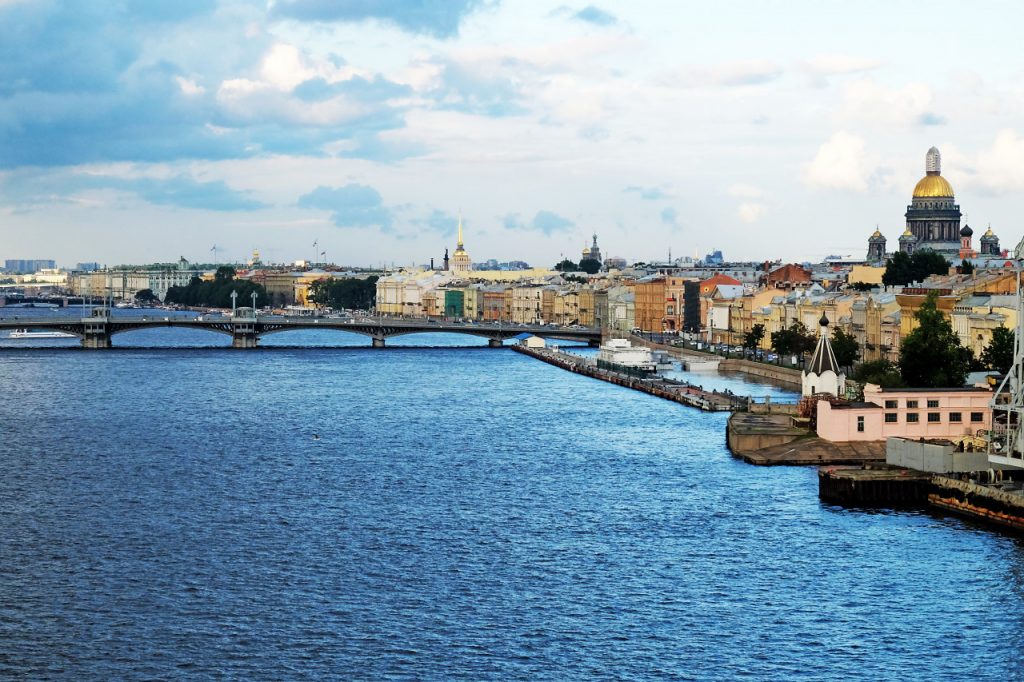 St. Petersburg
Gliding past rusted and abandoned factories, shipyards and piers, Nautica approached St. Petersburg through what appeared to be the wreckage of Soviet-era industrialization, yet, when we tied up at our birth along Leytenanta Shimidta Embankment in the Neva River, we felt surrounded by the Baroque former Russian Imperial capital. Our first day's guide, Melitina, led us on a tour of Catherine Palace and other historic sites, all the time filling us in with facts about her city. The population is around five million and a two-bedroom apartment costs around $150,000 US. During the WWII siege of Leningrad, as the city was then called, a million residents died out of four million, mostly of starvation.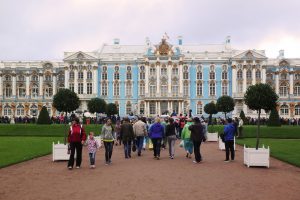 Catherine Palace, named after Peter the Great's second wife, is located about 30 kilometers south of the city center; the massive and opulent structure was completed in 1756. 325 meters long, its vast exterior was once gilded with 100 kilograms of gold. This was the first of many edifices and artifacts we visited that helped make the Russian Revolution more understandable. This day we also toured the Church of the Savior on Spilled Blood, built on the site of Czar Alexander II's assassination, and Peter and Paul Cathedral, located within a fortress of the same name. The Romanoffs, the Russian royal family, are buried here, and it's also the site of the city's 1703 founding. Lunch proved memorable, beginning with caviar canapes accompanied by a shot of vodka. A Greek salad, then a delicious mushroom soup was followed by "Russian Ravioli," a meat-filled pasta served with sour cream—yum!
Day two featured a cruise on the Neva River and a canal called the Fontanka River, through the heart of the city. The highlight of the day was the Yusupov Palace, infamous as the site of Rasputin's murder. As our guide spun the story, Rasputin seemed to possess supernatural powers. In 1916, Prince Felix Yusupov, heir to the family title and fortune, instigated a plot to murder the priest whom many in the nobility considered a misguided and unhealthy influence. In the basement of his palace, the prince tried to poison Rasputin, and when the poison seemed to have no effect, he shot Rasputin and left him for dead. Returning a short time later, the prince discovered the body missing! He and his co-conspirators tracked the priest down in the courtyard and shot him twice more, when he finally succumbed, The Yusupov family was one of the wealthiest in Russia in the 18th, 19th and early 20th centuries, owning 100,000 acres. plus factories, mines, railroads and more. They acquired and renovated the palace in 1830 and resided here until the Revolution, furnishing and decorating it with exquisite art. Though much of their collection is now in the Hermitage Museum, enough remains to convey a feeling of an opulent and sophisticated lifestyle.
We devoted our final day in Saint Petersburg to the Hermitage Museum. In less than three hours we toured four buildings: Winter Palace, Small Hermitage, New Hermitage, and Old Hermitage, enjoying the architecture, including the Grand Staircase, magnificent parquet floors; and the marble, gold leaf and lapis lazuli ornamentation almost as much as the Western European masters such as daVinci, Michelangelo, Titian, Rubens, Van Dyke. We were fascinated with an incredible peacock clock.
Finland and Sweden
Approaching Helsinki on a bright sunny morning, we watched rocky, evergreen-studded islands drift by our ship, where cool temperatures, a light breeze, and drifting scattered clouds welcomed us to Finland's capital and largest city. Our guide, Yana, told us that Helsinki was founded in 1550 by the Swedish king! For over 500 years until 1809, Finland was part of Sweden, and from that year until 1917 it was Russian, only gaining its independence by taking advantage of Russia's chaotic revolution. Among the highlights of our tour were a city park dedicated to Finnish composer Sibelius, with a sculpture resembling organ pipes, and the Rock Church. Excavated out of bedrock in the middle of the city in the late 1960s, the Lutheran church seemed an inspiring yet contemplative space, a memorable work of design and craftsmanship. Our tour finished at Senate Square, flanked by government buildings, the Bank of Finland, the 1852 cathedral, and a central statue of Alexander II. Alexander is known to Finns (as well as Russians) as the "Good Czar," for peace, scientific progress, and the rule of law during his reign.
We walked back to the waterfront and its open-air market where we enjoyed salmon paella for lunch before shopping among craft vendors. As we prepared to cast-off, announcements from the PA system said that one couple had "missed the boat," and sure enough, as our thrusters propelled us from the dock we saw two people frantically waiving from the sidewalk! The captain reversed thrusters and returned to the dock, to retrieve our tardy passengers. Our captain explained it was for "Karma."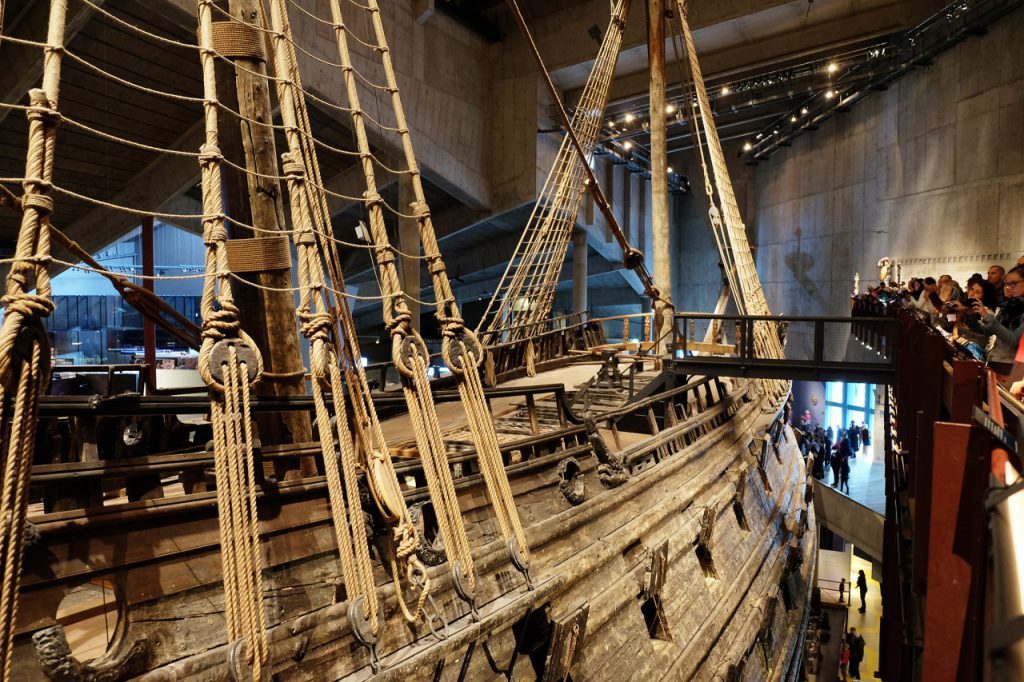 We set sail for our overnight journey to Stockholm, our final port of call. We declined the "extension" in Stockholm offered by Oceania, so were on our own when we disembarked. We began our exploration in the "Venice of the North," a city built on numerous islands. We walked about a mile from our hotel on Tjarhovsgatan to the ferry terminal to Gamla Stan, the historic center of Stockholm, where we hopped on one of the small, frequent ferries for a ten-minute ride to Djurgarden Island, a place we nicknamed museum island. Another short walk brought us to Vasa Museum, where an intact 17C Swedish warship, Vasa, is housed. The Vasa, launched in 1627, undertook her maiden voyage in 1628 and promptly sank! The vessel is an incredible sight and the story of its salvage and preservation is impressive. We next visited the nearby Nordiska museet, the museum of Swedish cultural history.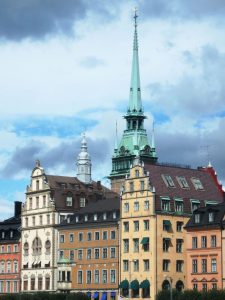 The highlight of our second day in Stockholm–in fact of our entire visit to the city–was lunch with Gudrun and her husband, Leif.  We met at the Fotografiska, a photography museum where we toured a photo exhibit of Stockholm's native daughter, Greta Garbo, and an impressive modern art photography exhibit of evocative global scenes. Gudrun is a good friend of our good friend, Donna, who acts as our travel agent when we need one. Donna put us in touch with Gudrun and her husband, Leif, who recommended our (excellent) hotel, and arranged our meet-up at the museum. The cafeteria food was very good, the view over the harbor from our table was gorgeous and our company warm and stimulating. Nothing better than getting to know some charming and knowledgeable locals.
The rest of our day was spent wandering the narrow medieval streets of Gamla Stan, the most historic part of the city, lined with shops and restaurants. We also toured the enormous Royal Palace on the island. We could easily have spent much more time wandering the streets of Gamla Stan and other neighborhoods. Nice to be heading home but a little sad when the adventure is over!
Keep up with the adventures of Janet and Stu on their blog, Wilsons' Travels
Have you been on a cruise in the Baltics?
We would love to hear about your adventures on the high seas!