The luxurious and historic Hacienda Petac in Mexico's Yucatan offers a unique culture-focused vacation that keeps youngsters entertained and learning about the Mayan world while parents and grandparents enjoy the estate and go daytripping nearby.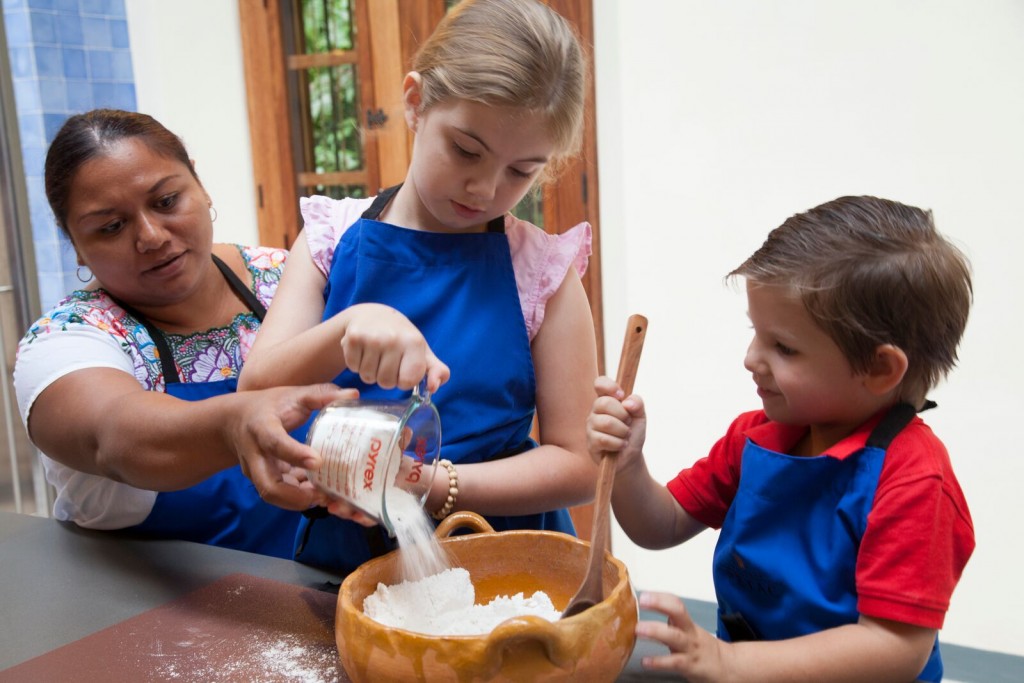 Near the city of Merida, on a 250-acre, 17th century estate, Hacienda Petac offers a children's activity program that includes:
Scavenger hunt in the Mérida food market where the family is introduced by the hacienda chef to the fruits, vegetables and spices of the area. Ingredients are gathered for an iconic Yucatécan dish (pah-ch'uhuk? ibes? espalone?)
Sightseeing excursion around Mérida's central square, with a stop for tropical-flavored sorbet.

Kids in the lush gardens of Hacienda Petac

Little chefs strap on aprons and go to work in the professional teaching kitchen. Age appropriate tasks involve hands-on preparation of a meal, rolling out tortillas, whipping up smoothies, paleta, sorbets and other dishes. (A "Smash-Fest" of seeds, fruits or vegetables is an essential part of a junior cook's fun––a cleansing dip in the swimming pool may be required!)
Learn to make kites and piñatas.
Provided with hand-drawn maps and clues, junior archaeologists hunt for buried Mayan treasures, scattered about the grounds.
While kids are busy, parents work on their tans at the pool, have Mayan massages in the private spa, enjoy their own cooking class, or head out for daytrips. Attractions nearby Hacienda Petac:

Uxmal: a huge, major Mayan archaeological site, circa 500 A.D., a UNESCO World Heritage Site.

Merida: the Spanish colonial capital of the Yucatan peninsula, with winding, narrow streets, lively plazas, fabulous archeological and art museums, artisans markets, eateries and more.

Fishing village of Celestun: lounge on the beach, see Reserva de la Biosfera Ría Celestún, a wildlife sanctuary for waterfowl; take a boat ride to see the fabulous flamingos!

Swimming in mysterious cenotes
Tucked away in glorious gardens, Hacienda Petac is a private resort where guests enjoy an historic villa, just seven spacious rooms and suites; plus a full-service spa, gym, library, regionally-sourced fine dining, swimming pool, games salon and walking trails. For 5-14 guests, from $1,500 to $2,000 a night, includes all meals, soft beverages, airport transfers, a Merida city tour and more. The children's adventure package is available for a supplement of $150 per child/per week.
Afternoons in a hammock at Hacienda Petac

"My family spent a glorious week at Hacienda Petac, nine of us from ages three to 78. We found it to be pure perfection."
More Mexico!