In the rugged Sierra Nevada range, at altitudes from about 4,000 feet on the valley floor to 7,000+ feet at Glacier Point, Yosemite National Park in the fall means rapidly changing weather, spectacular skies and cloud formations, and a pageant of shifting light against the soaring, silvery granite cliffs and the bouncing Merced River. It's no wonder that some photographers fall so deeply in love with Yosemite in the fall that they never recover.
After school starts, when most campers and day-trippers in the park are long gone, fall days are gloriously sparkling clear, with September temperatures in the 80s, and in the 70s in October. Crystalline mountain air seems to catch fire in the brilliant red and gold maples, oaks and aspens. The Merced River and the waterfalls relax, and leaves fall from the black oaks, turning them to stark silhouettes against the pale granite crags.
Bigleaf maples seem littered with gold coins in the late afternoon sun, their treasure reflected in the water. As tawny as mountain lions, meadows are rimmed with crunchy carpets of rust-colored pine needles and fernrows gone yellow.
Wildflowers are still scattered across Tuolumne Meadows, and access by Tioga Road remains open until sometime in September (although you never know – these are the rugged Sierras, and the weather can turn at any time). I love this page on the National Park website. It gives the rundown on where in the park to find the best fall color, both walking and driving.
Here's a website that describes fall color as it happens throughout the state, and you can submit your own photos and reports here, too.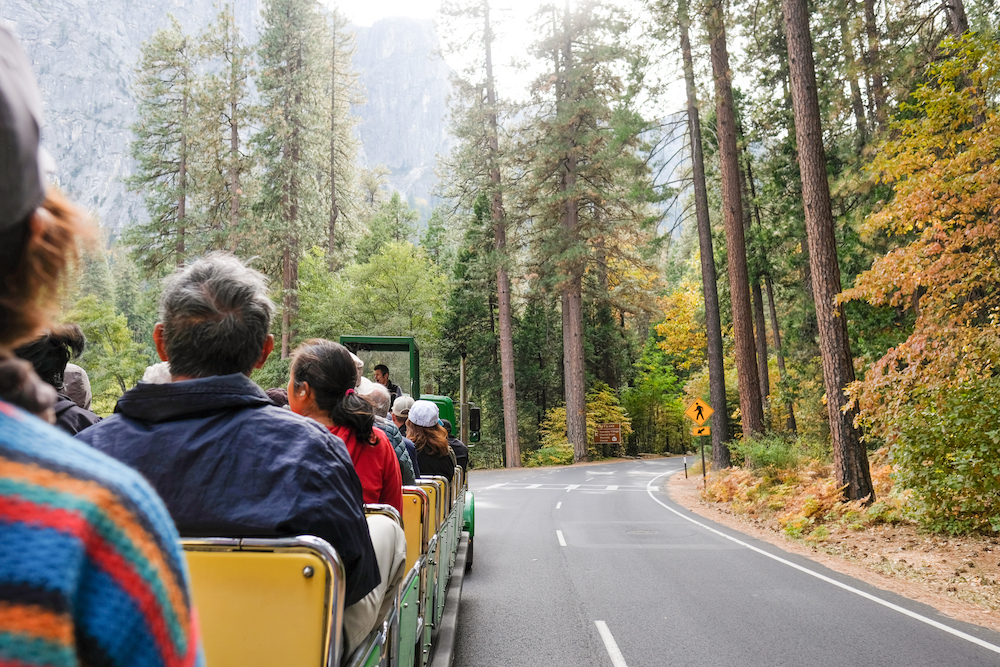 Fall Itineraries in Yosemite 
Exploring the travelyosemite.com website, you'll find these 2- and 3-day fall itineraries, complete with guided- and self-guided hikes and nighttime activities. If you've never been out of Yosemite Valley, you'll like the 3-day plan that adds on the Mariposa Grove of Giant Sequoias; Wawona and the Pioneer History Center on the south side of the park; and Glacier Point. (Glacier Point Road will be closed to all traffic in 2021 to rehabilitate and improve the road. Here is more info about the improvements that will alleviate traffic/parking problems.)
Things to Do in Yosemite National Park in the Fall
The warm, brisk days and nights of fall are perfect for bicycling and hiking on your own or with a guide; horseback rides, and sightseeing tours.
Nighttime programs such as Starry Skies Over Yosemite, and the Night Prowl, a guided walk in the woods with a naturalist. October through February, fireside storytelling is magical beside the massive fireplace in the Great Lounge of The Ahwahnee Hotel, from 7 to 8 p.m. And on any chilly evening, there is no more enchanting place to linger in an armchair or a sofa in the Great Lounge (you'll find a description of this world-famous room, and the charming anterooms, in my story, "Magical Yosemite in Winter." Another spot where you can toast your tootsies by a fireplace is the Mountain Room Lounge at the Yosemite Valley Lodge.
Live, free evening performances are scheduled into October in the Yosemite Theater in mid-valley (209) 379-2317.
Conversations with a Tramp: An Evening with John Muir. Wednesdays through Oct 16, 7 p.m.
John Muir's Wild Mountain Adventures: Explore Wild America with John Muir. Thursdays through October 10, 7 p.m.
A room of Rascals: School in Yosemite's Stagecoach Days, through October 22, 7:30 p.m. (209)379-2317
Featuring naturalists, scientists and Yosemite specialists, evening and daytime programs are scheduled through September at the Yosemite Conservation Heritage Center (formerly LeConte Memorial Lodge), a beautiful, stone National Historic Landmark built by the Sierra Club in 1903-04.
Vintners' Holidays at Yosemite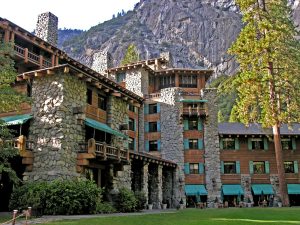 November through early December, the "Vintners' Holidays" sell out every year. Based at The Ahwahnee, each of the elegant events includes four elaborate wine tasting seminars; a private, intimate reception with renowned winery owners and winemakers, plus wine tasting, abundant appetizers, and hobnobbing with like-minded wine lovers. This year, the dazzling line-up of celebs features Eileen Crane of Domaine Carneros; Bill Phelps of Phelps Vineyards; Genevieve Janssens of Mondavi Winery; and many more icons of the wine industry.
Topping off these events is a five-course dinner in the world-famous Ahwahnee dining room, with wines perfectly paired with each course. I've attended several Vintners' Holidays with friends, and even though I'm from the California Wine Country, I found the setting, the exceptional wines, the access to winemakers, and the gala dinner evening, to be unforgettable experiences. (The 3-night package includes lodging at The Ahwahnee or the Yosemite Valley Lodge.)
Lots to Do in Yosemite if/when the Snow Flies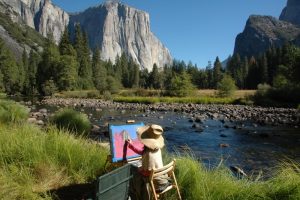 If winter arrives sooner than you expected and snowflakes begin to sparkle, you'll find that the snow-dusted valley remains quite accessible by vehicle and on foot, and you can easily get to myriad wonderful indoor adventures. In fact, the shoulder season between fall and deep winter is my favorite time, when I feel like I have the park all to myself. Here's something fun to do on Fridays through October 25: Yosemite Wine & Paint Classes at Mountain Room Lounge in Yosemite Mountain Lodge, a fun afternoon of painting, wine and cheese! 2–4 p.m. (888) 304-8993,.
And for the kids, daily art classes with Yosemite Conservancy, through October 31st, 10 a.m. to 2 p.m., at Happy Isles Art & Nature Center. The Conservancy also offers a wide variety of workshops, guided adventures, and art programs well into October, including "Autumn Light Photography."
Open year round, the ranger-staffed Valley Visitor Center has a bookstore, an information desk, the fascinating Spirit of Yosemite film, and a small exhibit hall showcasing the park's geology, plant and animal life, and history. Also open in mid-valley all year, the Yosemite Museum, Indian Cultural Exhibit and Village presents art exhibits, and the cultural history of the native Miwok and Paiute people from 1850 to the present, often with live demonstrations.
Closed only on Christmas Day, the Ansel Adams Gallery in mid-valley is my favorite place to hang out. On exhibit and for sale are dramatic, original images by Yosemite's most famous photographer, special exhibitions by various artists, and a lot of elegant jewelry and fine crafts. The gallery also offers camera walks,workshops and classes, and a weekly film; and, this is the place for the best postcards in Yosemite! demonstrations.
Can't get to Yosemite until wintertime? Don't miss this cozy getaway to the park when it's dusted with snow.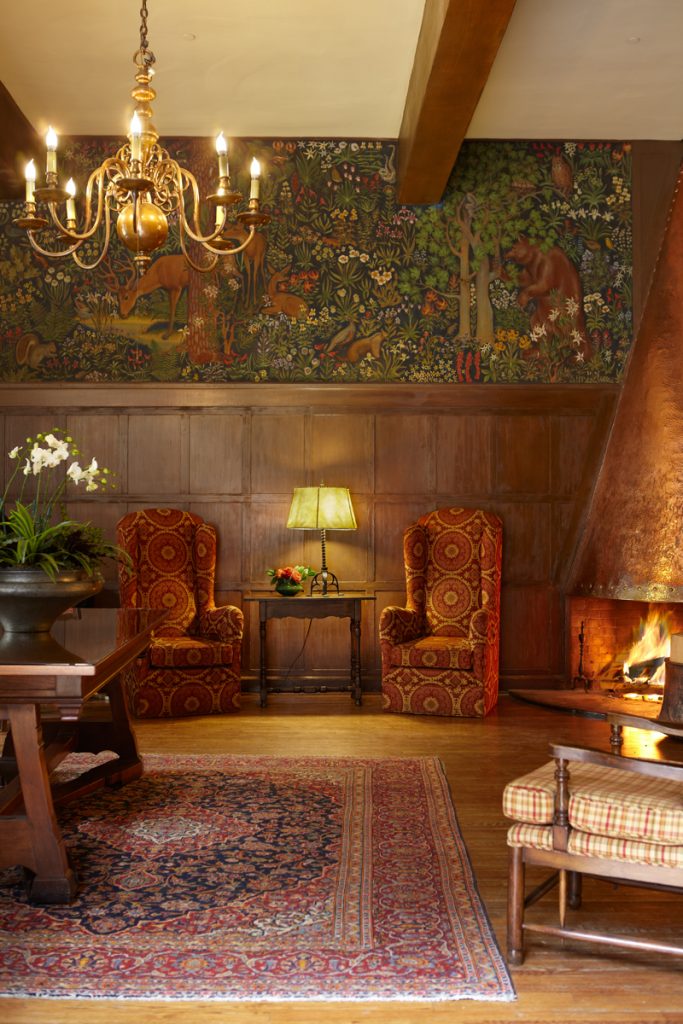 What is your favorite memory of Yosemite?
We'd love to know.