River cruises are wildly popular now, so popular that you must book now for a cruise in 2019, and even into 2020. Many 2019 cruises are booked solid, except for some late Fall and Winter departures. The explosion of river cruising is due to new ships with larger cabins and luxury amenities; unique and exotic destinations, and incentives for younger passengers, solo travelers, and multi-generational families (boomers do remain the main demographic).
The newer ships are spacious, with tall windows, balconies, some fitness centers and even walking tracks. If you wonder if a river cruise will interrupt your daily workout routine, you'll find that walking, biking, hiking, kayaking and other outdoor recreation are commonly offered.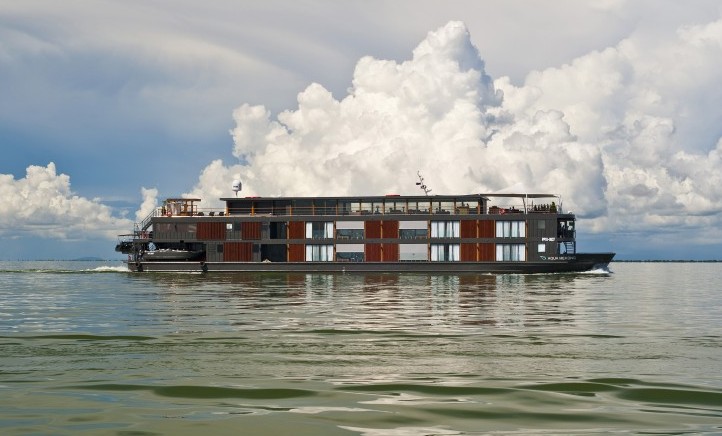 Why a river cruise? with fewer than 200 passengers, and even fewer on some vessels, you won't get that "I feel like I'm in a shopping mall" feeling you get on the mega-ships. I was on a lovely 2,800-passenger ship recently, and as literally hundreds of people rushed past me on their way to the swimming pools and the bars and the sign-up sheets for activities, I thought to myself, "Who ARE all these people? And, what is it going to be like when all 2,800 of us disembark for shore excursions?"
On a river cruiser, you'll have a lot in common with well-traveled passengers who have the same interest in authentic cultural experiences––expect to make life-long friends! In most cases on these four cruises, you'll also find that many of the passengers are "regulars" on these highly rated cruise lines. As you know, we at DCT focus on cultural tours: daily immersion in local culture, lectures by experts and scholars, meetings with local artists, cooking lessons, musical events, and exclusive insider access to top attractions.
Four Cultural River Cruises,

each one a cultural adventure of a lifetime
Vietnam & Cambodia with Austin Adventures
Netherlands & Belgium with Scenic Cruises
France with Avalon Waterways
Myanmar with Pandaw River Expeditions
A great add-on to your travels in Southeast Asia, a 4-night cruise in the Mekong Delta with the award-winning tour company, Austin Adventures. Biking options are offered most days.
From Saigon:
Weaving village and the plantations of My An Hung; music and dance.
Travel by skiff along Bassac Canal to Chau Doc floating market and to Long Son Pagoda atop Sam Mountain to visit with the monks. Optional biking on Long Khanh Island or a rickshaw ride to Tan Chau Market with chef.
Paddle by wooden sampan through stilted villages and floating markets, crisscross the canals in the remote village of Chnok Tru. and Preah Prosop
Float in Tra Su Cajuput Forest, monk's blessing at Long Son Tu Temple
Tuk-tuk tour of Phenom Penh, the Royal Palace, Silver Pagoda, Khmer art in the National Museum of Cambodia, battlefield sites, and the Russian Market.
From about $5,000pp on the Aqua Mekong, suites with tall windows; departures December through April. (This cruise is also available directly with Aqua Expeditions on the same ship; we recommend Austin Adventures because of their focus on family travel and outdoor activities, and because they are based in the U.S. and one of the top tour companies in the industry.)
Another choice on the Mekong Delta: AmaWaterways' Vietnam, Cambodia & the Riches of the Mekong. 5-star luxury on the AmaDara, suites, balconies, fitness room, hair salon, spas & swimming pool. 2 nights Hanoi, overnight Ha Long Bay, travel to Siem Reap for 3 nights, then embark on the Mekong River cruise, plus 2-night stay in Ho Chi Minh City.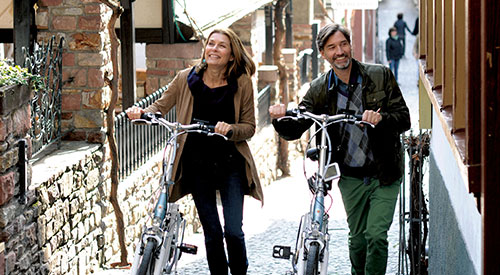 A culture-focused voyage on the canals and rivers of Holland and Belgium.
To and from Amsterdam:
Tour the canals, museums and sights of Amsterdam
The famous Storm Surge Barrier
Cycling tour of the sweet 15th century village of Veere on the dykes
Canals and cobblestones of the UNESCO World Heritage city of Bruges
Explore the architecture of Rotterdam and the spectacular Westersingel Sculpture Route
Or, the beautiful blue ceramics of Delft
Or, the magnificent windmills of Kinderdijk
Arnhem Airborne Museum and the historic houses, farms and windmills Netherlands Open Air Museum
Hoorn, the fishing village of Volendam, and Edam for the cheese!
On 5-star-rated Scenic "Space-Ships" 169 guests, suites, staterooms and balcony decks. From $5,645pp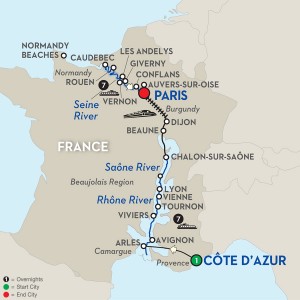 From the Côte d'Azur:
Explore Arles, then sail into the Camargue, then north up the three rivers.
Avignon and the 14th century Palace of the Popes; Pont du Gard, Châteauneuf-du-Pape
Viviers' Romanesque cathedral and medieval Old Town
Medieval Tournon and Vienne's Roman Theater, circa 20 BC
The gastronomic capitol of Lyon, with its UNESCO World Heritage Site Old Town
Chalon-sur-Saône and Beaune, ramparts, medieval houses, cobblestone streets, historical monuments
Take the TGV train from Dijon to Paris, embark your second ship, sail the Seine River into Normandy.
From Vernon, choose between Monet's gardens at Giverny or magnificent 1740 Bizy Castle
Les Andelys, home of fortress of Château Gaillard, built by King Richard the Lionheart in 1196
At Caudebec, choose from the "Thatched Cottage Route" or the "Abbey Route"
Normandy Beaches and the Bayeux Tapestry
Rouen: medieval architecture, the Gothic cathedral, Joan of Arc and Claude Monet
At Conflans, van Gogh's Auvers-sur-Oise, or Napoleon and Josephine's elegant Château de Malmaison
Complete your once-in-a-lifetime cruise with guided sightseeing in Paris!
16 days on the 138-passenger Affinity, with floor-to-ceiling windows, and balconies. Check out the many Avalon Waterways cruises on their blog.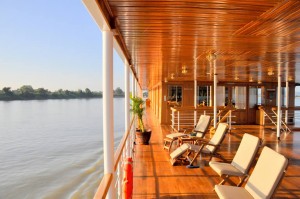 You've heard it: "Go now before it all changes!" Recently opened to tourism, the exotic, isolated paradise of Myanmar is best seen from the Irrawaddy River, as you glide past centuries-old golden pagodas, sweet villages and luxuriant, blooming junglescape. Claiming the "highest passenger-to-deck- space ratio of any cruise ships afloat,"  Pandaw River Expeditions' ships are luxurious, hand-built, teak and brass vessels of classic British colonial steamer design.
10 nights from Rangoon to Mandalay, an itinerary focused on Buddhist art, architecture and archaeology,
5th-8th century archaeological site of Thiri-ya-kittiya
Colonial town, marketplace, horse cart expedition
Ride trishaws to the magnificent Magwe Myat-thalon Pagoda
Yout-saun-kyaung monastery
Tan-Chi-Taung mountain by WWII jeep. Explore 3,000 monuments at Pagan
Markets, workshops, Oh Ne Kyaung village
Pottery village Yandabo; Pandaw School, built with donations from Pandaw passengers
Mandalay, Mahamuni Pagoda, Shwe Nan Daw Kyaung monastery; carving & art of Sagaing
Amarapura, boat ride along Taungthaman Lake; Mingun, Kyauk-myoung.
Mandalay!
The Golden Land, from $3,856pp. Pandaw River Expeditions' fleet of 12 ships plies the rivers of Laos, Vietnam, Cambodia, India and Myanmar.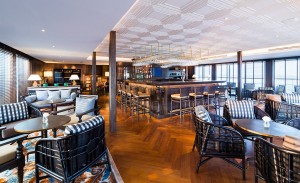 The brand new Strand Cruise, the sister ship to the colonial-era Strand Hotel in Yangon, now offers 3- and 4-night sailings between Bagan and Mandalay. 25 suites with balconies; butler service, gourmet dining, exceptional service and unique guided experiences in port. From $1,782 pp.
Click here for more CRUISES!
Have you been on a river cruise in the last couple of years?
Let us know how you liked it (or . . . . didn't like it).