You know by now that my mission with Deep Culture Travel is to write about meaningful, transformative travel experiences. Recently, I am finding it a real challenge to stick to that purpose in my own travels––it seems I'm so "busy" these days and finding it difficult to focus on what I live for, which is making every daytrip, weekend getaway and vacation a real pilgrimage from which I return home a wiser, better educated and more enlightened and empathetic person.
Gotta give myself credit, though, for seeking purpose in travel over most of my career as a travel writer.
The Cultural Caravan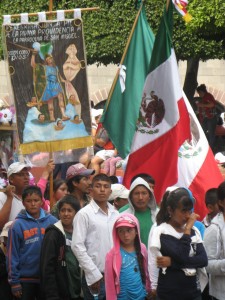 Over the last twenty years or so, my husband and I have made many pilgrimages to San Miguel de Allende in Mexico. From the very first evening of our very first visit (described here), we were overwhelmed by the deep, vibrant and ancient, enduring way of life in this Spanish Colonial city.
As a teenager, without realizing it, I made pilgrimages to Santa Barbara, in Southern California, where I became fascinated by the city's Spanish heritage. Ever since, I have been drawn to California history in the architecture, museums, festivals and old neighborhoods of the state, including in my own town of Sonoma!
Whether spending just one day at San Francisco's Presidio or following the trails of the early Greeks, Normans, and Arabs across Puglia on a bicycle, you can make a pilgrimage out of every trip you take. How about a river cruise in France where every day is a learning experience, at UNESCO World Heritage sites, and exploring a Romanesque cathedral. and a fortress built by Richard the Lionheart in 1196?
It's Not About Religion
You don't need to believe in God or in any kind of higher power to make a soulful pilgrimage, and seeking purpose in travel doesn't necessarily mean visiting religious or sacred sites. A pilgrimage is self-discovery, a quest––a journey with a purpose, and a challenge that you give yourself.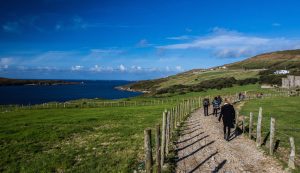 Author of The Art of Pilgrimage and a tour leader, Phil Cousineau writes: "The practice of soulful travel is to discover the overlapping point between history and everyday life . . . in the markets, small chapels, out-of-the-way parks, and craft shops. Curiosity about the extraordinary in the ordinary moves the heart of the traveler intent on seeing behind the veil of tourism."
Cousineau is a beloved cultural guide for Sacred Earth Journeys, a tour company specializing in pilgrimages, retreats, and deep culture travel experiences. This Fall he'll be leading the "Connemara Writer's Retreat" and "The Wild West of Ireland" tour. Book now for either of these — they sell out!
As for me, I'm still looking beyond the beach umbrella
for what my travels can teach me.
Are you seeking purpose in travel?
Click here for our new series: