As a teenager, I stayed with my girlfriend, Martha, and her family in Santa Barbara in the summertime. Every morning, we spent hours doing our hair, putting on make-up and packing up sandwiches, bathing suits and towels, before setting off for the rest of the day, every day. We took the bus all over town and to the beaches, and after three summers, we knew every neighborhood and every patch of sand.
The waters off our favorite beaches were warm, calm, and sapphire blue, the same blue as the summer sky, so blue at midday as to appear as flickering light, rather than a color. We often stayed in the pellucid water until our fingers shriveled and our "Cute Tomata" nail polish peeled off.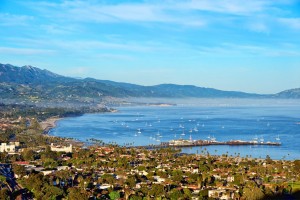 Nowadays, when my husband and I come to Santa Barbara for long weekends, we wander the streets of my youth beneath the same waving palms and gnarled fig trees. Creamy-white, dinner plate-sized magnolia blooms drown us in heavy scent, and memories of the good old days flood back when I see pools of lavender petals under the jacarandas and, all over town, wave after wave of magenta bougainvillea on whitewashed walls and red-tile roofs.
Blessed by a semi-tropical climate, the magnificent trees and gardens, the Spanish Colonial architecture and the sandy beaches create a romantic Mediterranean setting, earning this coastline the title, "The California Riviera."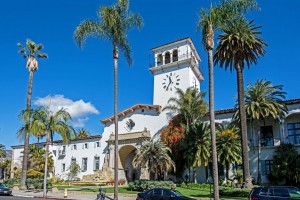 Santa Barbara's Moorish-Style Palace of Government
The charms of this Central California city are as seductive as ever, especially for history buffs and culture seekers. A good starting point is the palatial, Moorish-style Santa Barbara County Courthouse, the ultimate example of the architectural panache that sets this city apart from all others. Mosaic-tile-decorated, spiral stairways (you can take the elevator) lead to a tower overlooking a sea of terra-cotta tile roofs and the blue Pacific beyond. Fancy iron chandeliers hang from hand-painted ceilings, and behind heavy, carved doors are vivid murals depicting the city's early days of Spanish and Mexican settlement. Martha and I spent many a lazy afternoon on the sweeping lawns of the courthouse grounds. My husband and I, cameras in hand, tour the sunken garden, the Art Deco bas-reliefs, fountains and outdoor sculpture. (Free docent-led tours are offered from the Mural Room at 10:30 a.m. on weekdays, and daily at 2 p.m.)
Spanish- and Mexican-Style Architectural Tours
A devastating earthquake in 1925 spurred the city to celebrate its Spanish and Mexican heritage and to preserve its stunning coastline from development. The entire downtown was restored in flamboyant California Mission Revival and Spanish Baroque styles, and expansive public parks and gardens were laid out. Wrought iron balconies emerged, brightly painted ceramic tiles, hundreds of stone fountains, graceful archways and thick-walled adobe buildings and walls.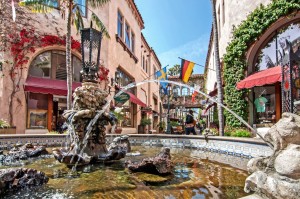 Off State Street, the main boulevard, Spanish Colonial Revival architecture is at its most melodramatic in El Paseo Viejo, a labyrinthine shopping arcade built in the 1920s around Casa del La Guerra, a large, antiques-filled, 1827 home. Snug in flower-filled patios are shops and galleries galore, quaint with whitewashed walls, and bubbling fountains. Within a few blocks of each other downtown is a gang of museums.
With its massive twin towers and pink sandstone, Greco-Roman facade, Old Mission Santa Barbara was founded by Franciscan friars, and brown-robed friars still inhabit the mission today. On warm days, visitors cool off in the dim, candlelit nave and stroll in the shade of the cloister gardens, lingering in the courtyard by a beautiful Moorish-style fountain. (Take a self-guided tour, or for a few dollars you can take a public guided tour Thursdays and Fridays at 11:00 am, and Saturdays at 10:30 am.) Also at the Mission are La Huerta Historic Gardens, described by horticulture and travel writer, David Laws, as "a living museum that portrays the botanic history of Spain's agricultural transformation of the California landscape by preserving authentic Mission-Era (1769-1834) plants."
Add to this thousands of palms and exuberantly blooming, courtyard-enclosed gardens, and the most impressive of the California mission churches, and King Ferdinand and Queen Isabella, today, might mistake Santa Barbara for Seville.
Santa Barbara's World-Famous Gardens
Since Martha and I had the run of the town, Santa Barbara has been discovered by well-heeled weekenders from L.A. and by movie stars and wealthy retirees who hide away in sprawling haciendas in the verdant hills above the city in the garden district of Montecito. Anchoring "Moneycito," the Four Seasons Resort Santa Barbara reposes across the road from Butterfly Beach. The arms of massive, century-old trees and towering palms guard the low-slung, white stucco hostelry, built in 1921 as the Biltmore Hotel. Potted palms and orchids lend a tropical feel, while ornate, gold leaf mirrors and 17th century santos–carved figures of the saints–are rich accents in the lobbies.
Horticulturists from around the world make pilgrimages to the hotel grounds to see 100-foot-tall Phoenix palms and rare Kentia palms, giant Camphor trees, and old Monterey cypress. Of the world's known 2,700 palm tree species, 75 are found here. The gigantic Moreton Bay fig is said to date from the 1800s. Another landmark Moreton Bay fig in town, planted by seedling in 1876, is said to be the largest in the country; located a block from the Amtrak train station.
Public tours of the glorious Four Seasons gardens are on Tuesdays during the summer months; make reservations through the concierge (805-565-8291). Reservations are strongly recommended as space is limited to 10 people per tour.
When were you last in Santa Barbara?
Your fav museums, galleries, music venues or historic sites?