The Big Daddy of all pilgrimages is "The Camino," also known as the Way of St. James, which is actually several trails that begin in Spain, Portugal and France and end in the city of Santiago de Compostela on the northwestern coast of Spain. In this third in our 5-part series "The 21st Century Pilgrim,"  I describe five Tours of the Camino de Santiago that will enable everyone, and especially culture vultures, to experience this once-in-a-lifetime, transformative adventure.
According to legend, in the 9th century, the remains of the apostle Saint James were carried by boat from Jerusalem to Spain, where he was buried, and some of his bones ended up at the Cathedral of Santiago de Compostela, a three-towered, Romanesque extravaganza. Pilgrims in the Middle Ages trod the long, hard Way of St. James from throughout the continent in order to earn plenary indulgences, and some people still do.
Why Walk the Camino?
Today, thousands of travelers walk (some ride bikes or horses) the Camino to Santiago de Compostela for various other reasons. Nowadays, Camino walkers are not so much religious pilgrims as bucket list checkers; mid-life seekers of life's purpose; young hikers on their gap years, and those commemorating a milestone in their lives.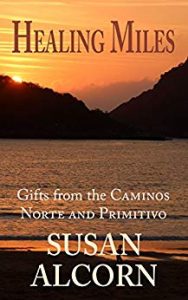 My friend, Susan Alcorn, who is a prolific author and journalist specializing in the Camino and in active travel, embarked on a Camino walk as a way of combating health issues and worries about her aging mother. Her book, Healing Miles: Gifts from the Caminos Norte and Primitivo, traces 750 miles through cities and remote villages, along beaches and up mountains; along the way, she and her husband took time out to visit historic sites and to enjoy tapas, vino tinto, pulpo(octopus), and sidra (hard cider); solitude, contemplation, and much camaraderie. (One of the top advantages of walking the Camino is meeting, and sometimes making life-long friends of, walkers from around the world. Everyone has a story!) In Healing Miles, you'll also find invaluable information and tips for the trek on two main Camino routes.
Four Main Routes for Tours of the Camino de Santiago

Camino Francés

: The most popular Camino route is the 450-mile, mostly flat French Way, where one of the strands of the trail runs through the city of Le Puy en Velay in France's Massif Central, a common starting point. As this route takes about two months, many commit to shorter sections, and some sign up for guided or self-guided tours that include accommodations, meals, and transport of gear­­—sounds good to me! Here is a fab description of walking the Camino by one intrepid pilgrim, as featured in National Geographic Traveler magazine. She makes the

walk in the traditional way on the Camino Francés

, staying in pilgrim's hostels and albergues, sharing meals and making friends with fellow travelers. In her book, Alcorn said, "The Camino Francés does go through developed countryside, towns and cities, and relatively near highways; on the other hand, you will never be alone, and you can stop in small villages and beautiful cities, and take breaks to enjoy great eateries and cultural attractions. On this route, some people take a bus off and on to avoid lengthy approaches through the outskirts of larger cities."
The oldest trail, about 340K, the Camino Primitivo begins in Oviedo, in northern Spain, joining up with the French Way towards the end.
Camino Portugués, the Portuguese Way, starts at either Lisbon (about 610K) or Porto (about 227K), crossing five beautiful rivers in Portugal.
Camino del Norte, the Northern Way, is a rather more challenging trail that usually begins in the Basque city of Irun or in San Sebastián, then follows the coastline of northern Spain and heads inland towards Santi, joining the Camino Francés at Arzúa.
5 Tours of the Camino de Santiago
For those of us seeking the life-affirming rewards of a Camino walk without beating our bodies to a pulp, here are five guided tours of the Camino de Santiago that make it easy and comfortable:
The Wayfarers
A dependable, long-established tour operator specializing in walking vacations,
The Wayfarers
offers week-long tours of the Camino de Santiago including guides, meals, some transport, and first-class accommodations. Beginning in Burgos, the small group heads to the Cruz de Hierro village of O'Cebreiro, then on to the ancient town of Astorga, with its Roman walls, medieval cathedral and Gaudi's eccentric Bishop's Palace. On the itinerary are the mountain villages of Rabanal del Camino and O'Cebreiro, and Ponferrada, with its 12th-century Templar castle built to defend the pilgrims from the Moors.
Each day's walk is 5-6 hours, covering 9-15 miles of moderate walking, and transport is at hand when needed. The grande finale of The Wayfarers tour is a pilgrims' mass in the cathedral. Even if you're not religious, this is a heart-warming experience.
Butterfield & Robinson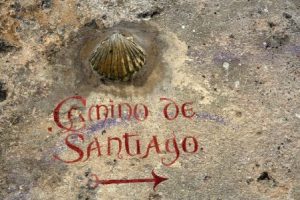 One of the top biking and walking tour companies in the world, Butterfield guides bicyclers from Leon to Santiago de Compostela on a scenic route that includes Astorga, Castrillo de los Polvazares, and Cruz de Ferro, descending to Ponferrada and the Castle of the Knights Templar, then rising to the mountaintop town of O'Cebreiro. On the last day, cyclers head for the rugged coast of Galicia to Finisterre for a refreshing seafood lunch before heading back to the city for a final exploration.
This Camino expedition is for intermediate to advanced bikers (daily distances 48 – 68K with optional extensions as far as 80K a day). Top notch bikes and all gear are included; support van, too, and lodging and meals. (Butterfield also offers a Camino walking tour.)
Peregrine Adventures Self-Guided Tours of the Camino de Santiago

A self-guided walking tour with lodging, most meals, and gear transport included makes the Camino doable for those who want the experience without the physical wear-and-tear. Peregrine does all the heavy lifting and handle the logistics for you on week-long, quite affordable, 100K walking tours of the Camino de Santiago, from Sarria to Santiago (airport transfer, too).
Here is a run-down on the experience of one of their happy clients, who wrote, "We stayed in some wonderfully unique accommodation, from old country mansions to comfortable town hotels. A taxi would pick up our main luggage each morning so it would be waiting for us at our next destination. Breakfast was included, and we often ate in lovely settings; in the garden among ponds and flowers, or on the terrace overlooking the surrounding fields."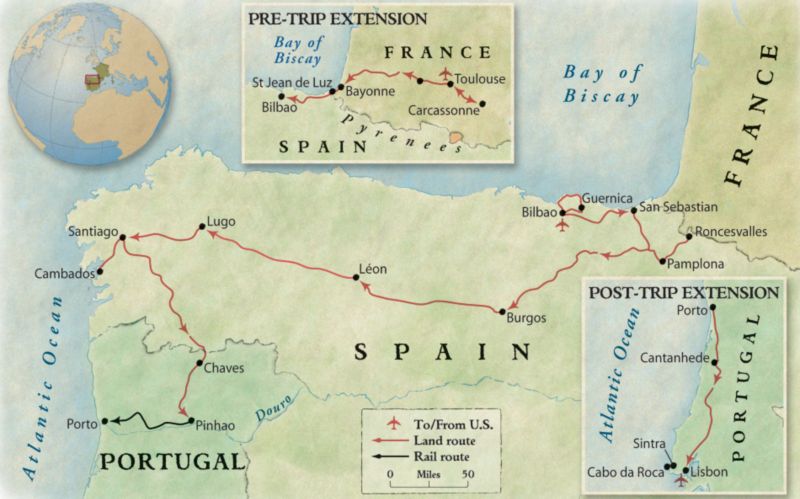 OAT (Overseas Adventure Travel)
For more than four decades, OAT has provided small group, guided tours for active, culture-oriented, life-long learners over the age of 50. Their repeat clientele is legendary, so you'll need to book early, even for 2019.
The two-week "Northern Spain & Portugal Pilgrimage Into the Past" features plenty of time to explore ancient cities and villages. Transport is provided between destinations, and although this is not a traditional on-foot-only Camino pilgrimage, plenty of walking is on the itinerary, as is an optional three-mile walk on the Camino into the city of Santiago de Compostela.
From the Basque capital of Bilbao and Pamplona all the way to Porto, the tour includes these destinations and more:
Bilbao, including the spectacular Guggenheim Museum
Pamplona, including Guernica
Burgos, Leon
Santiago de Compostela
Douro Valley in Portugal and Porto
You can also add on the pre-trip to Carcassonne and Bayonne, and/or the post-trip to Lisbon. 
Boundless Journeys
The Camino itinerary on the Boundless Journeys website lays out an easy-to-moderate walking tour from Bilbao to Santiago de Compostela, with no more than 3-4 hours of walking a day on sections of the French Way trail. This is a guided expedition with a "sag wagon" for when you just can't walk another step! Cultural attractions in each town are on the daily itineraries; and, meals, transport and lodging are included.
Grand Arrival at Santiago de Compostela !
At the end of their Camino walks, pilgrims wander through the beautiful city of Santiago de Compostela to the Plaza del Obradoiro and walk up the steps of the dazzling Romanesque-style cathedral, a UNESCO World Heritage site, within which are said to lie some of the remains of St. James. Here they burst into tears, celebrate, attend a pilgrim's mass, and most important, they hand in their Camino "passport" and receive an official Credencial del Paregrino!
Don't miss 4 more presentations in our series,
Coming soon:
Trace Your Irish or Scottish Ancestry: find your roots at family history centers and on guided genealogy tours.
Prague Pilgrimage: Seeking Mucha on an Art Nouveau Tour

What is your passion when it comes to travel?
History? Cuisine? Music? Art? Ancestry?
Have you been on a trip or a tour that became a real pilgrimage for you?