This story is by Lee Daley, an award-winning travel journalist and photographer, and founder of TravelExaminer.net and EpicureanDestinations.com. We are so pleased that Lee's timely article about this blockbuster new museum in the San Francisco Bay Area is our first guest contribution, and we look forward to more of her lively style and professional insight — and those fab photos. Welcome Lee!
After an almost three year hiatus, the long awaited re-opening of the newly revamped San Francisco Museum of Modern Art is now alive and open to the public. Museum Chair Charles Schwab described SFMOMA's goals in his opening address when he said, "Three words––art, architecture and access––best describe the museum's mission.This is a treat that will challenge the senses and our goal is to make the museum incredibly accessible to the public." To that end, SFMOMA now offers permanent free admission to those 18 and younger and also open its entire first floor to visitors without a ticket, thus making it one of the most publicly accessible museums in the country.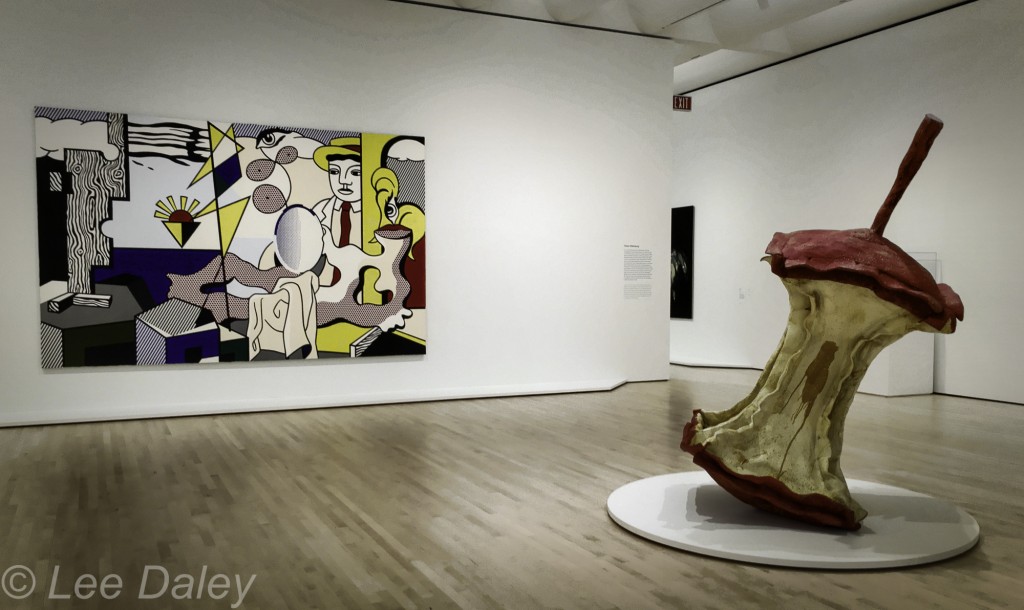 Bigger, better and more dynamic than ever, it's easy to see why art lovers drop into the museum during a lunch break just to take in the stunning art featured on the first and second floors. Entering from the Third Street entry, one looks up to see a 27-foot-wide Calder mobile suspended above a light suffused sculptural staircase. A new entrance on Howard Street presents visitors with Richard Serra's monumental rolled steel sculpture, Sequence. To experience Sequence, walk through its curved inner paths as through an enclosed open-roofed maze with no corners. Adjacent to the sculpture, a curved set of maple-faced Roman stairs form a perfect gathering spot and seating area. "Climb the stairs," Schwab advises "Each floor is a journey."
Another standout is the third floor Pritzker Center for Photography. Said to be the largest of its kind, it houses gallery space as well as research facilities. For the museum's inaugural show, a stellar new contemporary exhibit showcased works by Richard Diebenkorn, Diane Arbus, Jasper Johns and Francis Bacon. All told, the new structure's exhibition area boasts three times more gallery space than the original structure with the fourth floor being larger than all five floors from the original building.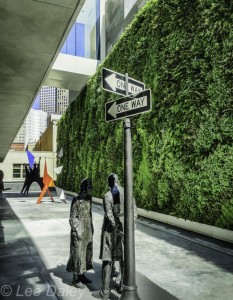 Living Wall: Equally impressive is the 150-foot-wide living wall located on the third floor terrace. Designed by Habitat Horticulture, it's a stunner, a multi-sensory experience and dynamic background for sculpture. With almost 20,000 plants, including 24 species native to California, it's an ever-changing wall of life supported by a recycled water system.
Exterior: The new addition's façade, influenced in part by the fog and waters of the San Francisco Bay, comprises more than 700 uniquely shaped FRP (fiberglass-reinforced polymer) panels affixed to a curtain-wall system to create rippling horizontal bands that appear to shift in appearance with the changing light.
Take Homes: In celebration of the museum's opening, the Museum Store features a suite of exclusive jewelry collections designed by three architects and an industrial designer, all women, based on the architecture and design details of the new SFMOMA. Jana Machin, SFMOMA Museum Store director says, "It has been a fascinating process to see each designer interpret architectural elements of the new museum into wearable pieces of art and architecture."
Palate Pleasers: Adjacent to the Photography Interpretive Gallery, a local artisanal coffee purveyor, Sightglass, serves pastries along with handcrafted coffee. On tap too is hot chocolate custom made from Dick Taylor Chocolate. On floor five, the aptly named Café 5 offers light family friendly fare surrounded by a tranquil sculpture garden.
Haute Cuisine:  Enjoy fine-dining at the museum's ground floor restaurant, In Situ, where Chef Corey Lee, recipient of three Michelin stars, has created a menu of dishes contributed by more than 80 chefs from around the world.
Hours: SFMOMA galleries are open daily except Wednesdays 10 a.m.–5 p.m. and Thursdays until 9 p.m. Public spaces are open daily except Wednesdays at 9 a.m. Plan a visit by reserving  tickets on the museum's website at www.sfmoma.org.
Bring your kids or grandkids to SFMOMA — it's free for them,
and the entire first floor is free to all!