This story is by Lee Daley, an award-winning travel journalist and photographer, and founder of TravelExaminer.net and EpicureanDestinations.com. An international traveler extraordinaire, Lee is one of our regular contributors.As we watched deckside, our small Katrina Line cruise ship anchored alongside the Dalmatian coast shoreline of Brač Island and its Golden Horn Beach. Holding just 38 passengers, the Futura's compact size fits into ports large ships can't handle. Our eager group of sunbathers disembarked and clambered aboard small boats for the short ride to the golden sands. Once ashore, my husband and I decided to meander —— sunbathing could come later.
Wandering Brač Island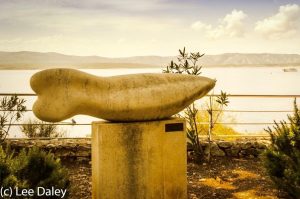 A short walk from the white pebble beach, signs along a tree-shaded promenade pointed the way to the village of Bol. Through the greenery, an impossibly blue bay glistened in the sun, and soothing ocean breezes wafted through the pines. We knew little about Brač, but soon were delighted to come upon the first of several stunning limestone sculptures. Bathed in dappled sunlight, our path had suddenly morphed into an outdoor sculpture garden adorned with larger-than-life busts and modern art works, although very few plaques identified the artist or artists.
Our view as we neared the village, ancient limestone buildings lined the wharf, throwing the harbor's heavenly blue waters into sharp relief. We later learned that Brač Island is home to the famous Pucisca Stonemason School, founded more than 100 years ago to protect the island's stone masonry tradition, which dates from Roman times. In fact, the Romans used the Brač Island marble and limestone for temples, amphitheaters and palaces all over Dalmatia. The fourth century Emperor Diocletian's 1,700-year-old palace in Split was built from Brač stone (scenes from the Palace were depicted as the Throne Room in Game of Thrones). Brač Island stone can also be found in the White House and a host of historic European buildings. Sometimes called Brač "marble," It is actually a beautiful white or off-white limestone on its way to becoming marble, but is not yet as hard.
Across from the harbor, a row of cafes with outdoor seating, boutiques and galleries led to an opening where a farmers' market displayed a bounty of the island's fresh fruit and vegetables. Exchanging smiles with a local farmer, we plucked ripe peaches and grapes, perfect for picnicking in a nearby pocket park with its shaded fountain and benches.
A Fine Arts Tradition on Brač Island
Serendipitous cultural immersion: Along the main waterfront directly across from the harbor, we came upon a building so beautifully fitting to the area, it immediately caught our attention. We entered its open front courtyard to see free-standing classical sculptures. "Was this one a Giacometti?" I wondered. Several sculptures were carved from the same limestone as those we had seen on our walk into town.
Through the building's ground floor windows, we spied intriguing art works and realized the building housed a museum and an art gallery. Suddenly, a young man appeared at the door, and we learned that he was Tino Vukovic, the gallery's curator, and that he would be happy to give us a private tour of the collection.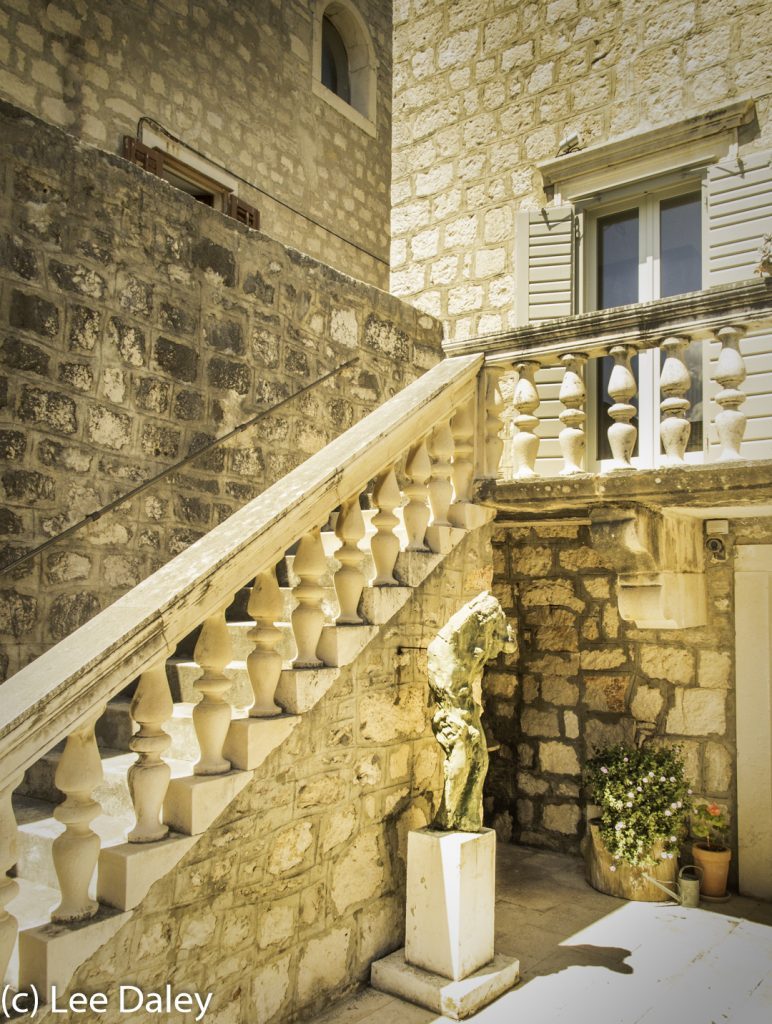 A Renaissance-Baroque palace dating to 1694, Gallery Bratislava Deskovic gallery displays both traditional and contemporary art by Croatian artists. It was obvious from Timo's exuberance as he guided us through the exhibits that his job was a joy, as he showed us the influence of van Gogh in one painting and the similarity to the style of Monet in another. We were sure one magnificent bust, sculpted of smooth black marble, symbolized Don Quixote until he informed us it depicted a local dignitary created by award winning Croatian artist, Marija Ujević Galetović,
Through Timo, we learned of Brač's strong artistic tradition, most notably in sculpture, stone-working and painting, and that the sculpture garden promenade leading into town had been commissioned by the village to showcase sculptures by local artists. From this artistic tradition came the island's best-known artist, the sculptor Bratislava Deskovic, for whom the gallery is named. We later learned that his beautiful sculptures can be seen all over Bol. It was in the gallery's entrance that we had admired the sculpture of his dog, depicted scratching its ear. And the Giacometti-like sculpture? That was another story.
A native of Brač born in 1922, sculptor and painter Valeriji Michieli lived through WWII when islanders fiercely resisted the Italian Fascist occupation. He depicted the suffering of this turmoil through paintings and sculpture, and was inspired in some of his creations by the Swiss artist, Antonio Giacometti.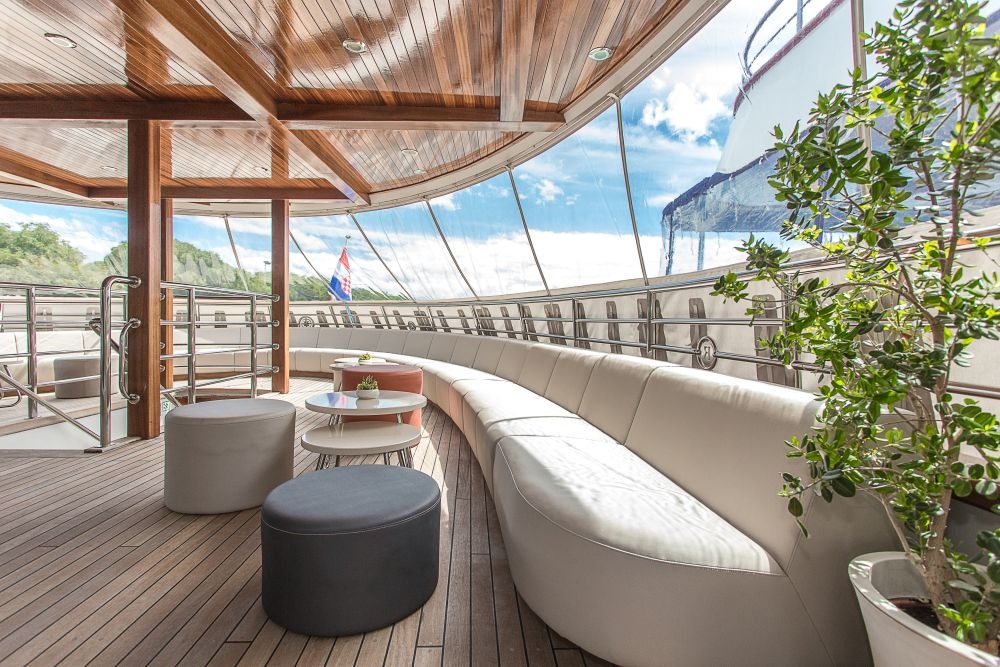 Wine and Dine on Brac Island
Flush with olive and fig trees, Brač's terrain offers cuisine that is essentially Mediterranean; the island is known for its seafood, lamb dishes, sublime olive oil, and local wine. We popped into Taverna Riva to sample the island's bounty after our museum tour. Located right on the waterfront, (called the riva), our courtyard table under a sheltering shade tree afforded a stunning view of the harbor as we lunched on freshly caught and deliciously prepared seafood with grilled vegetables. Our server helped us review the wine list, and based on his recommendation, we chose the local Stina Cuvee. The blend was 33% chardonnay combined with local grapes called vugava and pošip. We were in luck because our itinerary that evening included a tour of Stina Winery located in Bol, very close to Taverna Riva.
Meandering and museum viewing made us late for the return to our ship, so we caught an inexpensive water taxi back to the Golden Horn beach. A short time later, our ship pulled into Bol for our before-dinner wine tasting at Stina Winery
Housed in an old wine cooperative building right on the waterfront, the name Stina translates to the word stone in deference to the limestone quarried on Brač Island. The Stina Winery tasting room gave us another chance to enjoy Stina's Posip, 2017, which we had enjoyed with lunch. Young, fruity and fresh, this vintage pairs well with mild cheese and seafood. The cooperative produces three wines, including a rosé and the plavac, both made from local indigenous grapes. The long history of Brač has always been marked by the cultivation of grapevines, especially the plavac mali variety. 
More here about the Katarina Cruise Line
From April to mid-October, Katarina Line's 60 ships, in all budget categories, depart from Opatija, Split and Dubrovnik for cultural cruises along the glorious Croatian coastline. Guided tours, hiking and biking, "young fun" and other activities are available. One add-on is the Croatian Rhapsody coach tour that connects to 5 UNESCO sites, with wine tastings, exceptional gourmet experiences, authentic local villages, and 4-star hotels.
Food is Fab on the Futura
Back on board, our chef, Jorge, outdid himself with a white tablecloth, five-course Captain's farewell dinner, accompanied by fine wines. That evening, a local guitar/keyboard duet played rock tunes with requests honored for our favorites. We were definitely spoiled.
Every meal on the Futura was superb. Each morning, a sumptuous breakfast buffet of eggs, fruit, croissants, freshly brewed coffee and tea was ready and waiting in the upper deck lounge with its water views. The bar was always open with snacks available, as well. Nine crew members serve the 38 passengers and were there to field questions whenever needed. Our four-night cruise included three islands: Hvar, Korcula and Brač. Each was uniquely individual and stunningly beautiful. Our voyage was all-inclusive with all meals, including dinner and wine at three upscale island restaurants featuring fresh, local cuisine.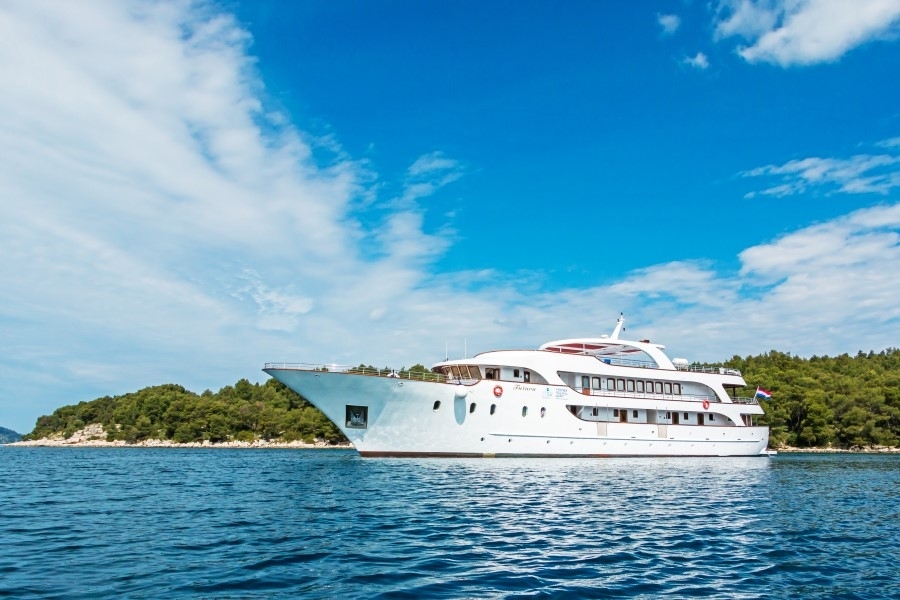 If You Go: 
Katarina Line knows the Dalmatian Coast so well because most of the staff have lived there all their lives. With itineraries ranging from budget to luxury, including nine ships in the Deluxe Superior Category, and lots to choose from in every price range, they cover every possible option for a rewarding exploration of the Dalmatian Coast. We booked our hotel lodging through their office prior to departure, and they offered transport arrangements from the airport to downtown Split, our cruise departure city. We booked our trip directly with Katarina Line and were extremely happy with all the arrangements.