Although Palau is primarily known as a scuba diving mecca, many people go to those idyllic Micronesian islands for a variety of other attractions, in particular, World War II and Micronesian museums. And, of course, there are the visitors who accompany those avid divers who spend every day underwater! Besides beach combing, snorkeling, exploring Jellyfish Lake, kayaking, fishing and riverboat cruising, culture vultures can look forward to more than a week's worth of daytripping to historic and cultural sites:
Belau National Museum
Etpison Museum
Badrulchau ancient monolith
World War II Museum on Peleliu
The oldest museum in Micronesia, the Belau National Museum has indoor and outdoor exhibits of regional history, art, artifacts and natural history. You can watch events in the theater, nosh in the cafe and purchase carved hardwood sculptures, local jewelry, books on Palau, and other handicrafts.
Day Trip to Badrulchau Island: stone monoliths, faces and other ancient stone installations, and a  Japanese lighthouse.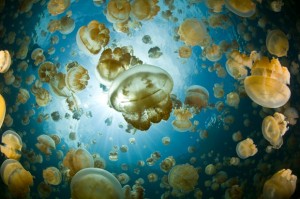 A one-hour drive from Koror to Ngarchelong, the highway runs through forest and savannah. Stop along the coastline and at local markets. (rent a car or take a guided tour)
The site of the Battle of Peleliu, the bloodiest battle of World War II, full of war memorabilia and memorials, the World War II Museum on Peleliu is dedicated to how the Japanese and the Americans affected the island, and the island's recovery. Several tour companies based in Koror offer day trips via boat to Peleliu (one hour ride each way).
An archipelago of more than 586 islands, Palau has been called one of the "Seven Underwater Wonders of the World". The Southern Lagoon Rock Islands are on the UNESCO World Heritage list.