Since the U.S. re-established diplomatic ties with Cuba, travel regulations have eased, launching a whole raft of new cruises, tours and flights to the island that is just 90 miles from Florida. Cuba has an enchanting tropical, frozen-in-time 1930s-40s vibe, flamboyant music and art, and a young, educated and spring-loaded population on the verge of bursting out into the world after 50+ years of isolation.
How to Choose a Cuba Tour
A big reason to book with a tour company that is already well-established in Cuba is that professional tour guides are getting scarce as record-breaking numbers of tourists and tour groups are arriving, My advice is to go with companies who have long-term relationships with top guides, artists, academics and other experts, and insider access to private, enriching encounters with locals. Here are itineraries offered by some of the world's top tour companies (I will cover Top Cultural Cruises to Cuba in another blog post).
Hard to beat the long-established credibility of National Geographic Expeditions, which is world-famous for small group tours accompanied by researchers, explorers, authors, and photographers, and focused on cultural immersion and once-in-a-lifetime experiences with locals.
A few highlights of National Geographic Expeditions' tour "Cuba: Discovering Its People and Culture"
In Old Havana, the restoration of the city from a local preservation expert
Finca Vigía, Ernest Hemingway home & museum
Organopónico organic farm & Cuban cuisine
Cuban Baseball Hall of Fame with local sports journalists
Benny Moré Art School & Muraleando with artists
French colonial port city of Cienfuegos
Musical & dance performances, Afro-Cuban filmmakers
Bay of Pigs & Topes de Collantes nature reserve
Trinidad Cuba's best-preserved colonial city with a restoration expert & a famous photographer
Meet local Habaneros, journalists, educators, economists, gov't officials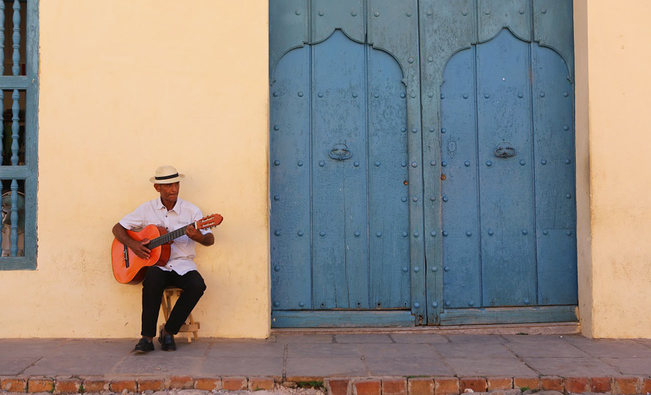 Famous for their People-to-People programs in Cuba, Smithsonian Journeys tour "Discover Cuba: Its People and Culture" is loaded with cultural depth and unique experiences. Your "Discover Cuba" adventure begins in Miami with a pre-tour panel of experts on the economy, political structure, and culture. A few highlights of the Smithsonian Journeys itinerary:
Explore Habana Vieja
Historic Guanabacoa, Cidenfuegos, Trinidad, Vinca Vigía
Bay of Pigs
World Heritage sites & preservation projects
Meet farmers, journalists, shopkeepers, gov't officials, professors
Discover Cuba's art traditions with artists in their studios
Visit National Museum of Fine Arts & the University of Arts
African origins of Cuba's Santeria religion
Cuban music, from son to rumba and jazz
Learning Trips to Cuba
A not-for-profit organization that has been specializing in educational travel for adults and intergenerational trips for more than 40 years, Road Scholar offers more than a dozen different type of Cuba trips. Their groups are accompanied by local and international experts who enrich the cultural tours and study cruises; and walking, biking and other active tours are also focused on learning and culture. A few Road Scholar tours to Cuba:
Cuba news: you can now spend money in Cuba for living expenses and make up to $400 in purchases, including up to $100 for cigars or alcohol. Regular air service between the U.S. and Cuba has begun!
From one of our subscribers, Lee Daley, a travel journalist and photographer (EpicureanDestinations): "My stay was limited to Havana, but it certainly whetted my appetite to see more of the country. I really love the "People to People" concept. In my case, our group met artists, musicians, small business owners, visited iconic historic sites, took an architectural walking tour, dined in restaurants owned by local residents, and experienced an excursion to dinner in classic, vintage cars–a 1955 purple and cream Ford Fairlane 500 convertible! 

We were able to freely exchange ideas and cultural experiences with many locals., and we gained an appreciation for their situation, their history and their feelings about the future of their country in a way we never could have had we not met so many everyday individuals who so generously shared their time with us. Our trip was reasonably priced and I would recommend SmarTours as a resource for travel to Cuba."
Have you been to Cuba?
If so, let us know of your review of the tour or cruise company with which you traveled.
Are you booking for 2017? If so, what did you decide?