Designed by G Adventures for families with teenagers, Amazon to the Andes Teenage Adventure is a trip of a lifetime to Peru! Your kid or grandkids will never forget the lost city of the Incas––Machu Picchu–– or staying in a jungle lodge on the Amazon, and all the history and cultural riches of Lima and Cusco.
Besides providing award-winning, small-group cultural tours for active travelers, G Adventures works with Planeterra Foundation, a non-profit organization that focuses on the social and environmental welfare of the communities and the people touched by G Adventures tour groups.
Highlights of Amazon to the Andes Teenage Adventure:
4-day guided Inca Trail hike to Machu Picchu, accompanied by cooks, porters, and Inca Trail specialists
Guided tour of the lost city of the Incas, Machu Picchu, with optional visit to the Inca Bridge
Ollantaytambo ruins in the Sacred Valley of the Incas
Visit a women's weaving project in Huchuy Qosco, an indigenous village that now runs the Planeterra-supported Sacred Valley Community Restaurant
Shopping at a local artisan market
Explore Cusco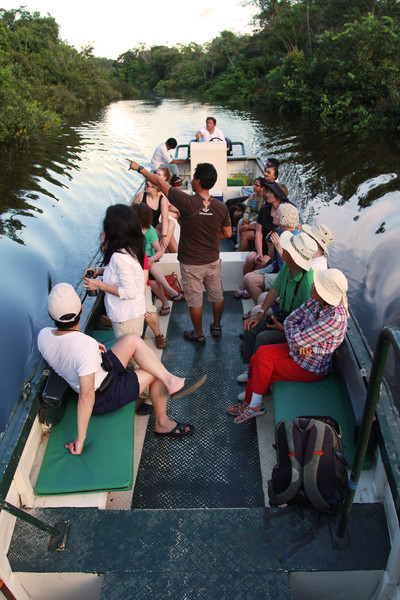 Fly to Puerto Maldonado for boat to the comfortable and exclusive G Lodge Amazon
Wildlife expeditions on the Amazon with G Adventures
Guided wildlife excursions by expert naturalists
Optional tour of Lima: Museo Rafael Larco Herrera's exhibits of Paracas and Nazca cultures. Explore the districts of Miraflores, Barranco and San Isidro and try the city's famous ceviche!
Optional activities near Cusco: horseback riding around archaeological sites, white water rafting on the Urubamba River; and mountain biking.11 breakfasts, 6 lunches, 5 dinners.
Hotels/guesthouses (6 nts), camping (3 nts), G Lodge Amazon (2 nts).
Transport by public bus, plane, train, boat, canoe, hiking
Group: average 12, maximum 16; minimum age 12
Departures: July and December 2015
More details here of the included and optional itinerary of Highlights of Amazon to the Andes Teenage Adventure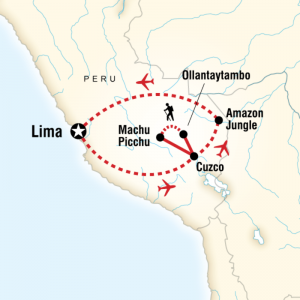 Click here for another choice of a family-oriented tour to Machu Picchu, this one rather more physically active, from one of the world's most highly-rated companies, Austin Adventures.