An insider cuisine and culture tour of Manhattan's most vibrant and historic neighborhood, Taste Harlem is the brainchild of Jacqueline Orange, an escapee from the corporate world.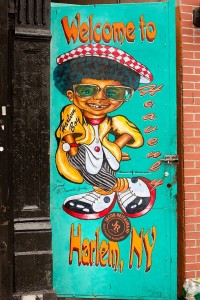 She and/or her savvy, certified local guides will lead you on a 2- to 4-hour walking-and-bus expedition to casual and fine dining spots, art galleries, landmark architecture, and music venues. Between the generous tastings of soul food, Caribbean cuisine, African fare and more, you'll learn about Harlem's vivid history and hidden neighborhoods, and meet some of the district's most fascinating residents.
"Queen of Soul Food" Sylvia Woods holds forth at her legendary eatery, Sylvia's Restaurant, and the legendary Samuel Hargress is often found at his jazz, blues and R&B club, Paris Blues.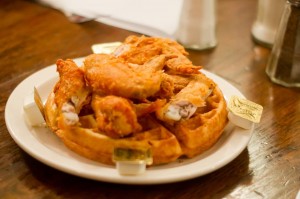 Other stops on Taste Harlem:
Patisserie des Ambassades Senegalese café & bakery
Tropical Grill Restaurant Caribbean & Spanish food
Make My Cake Bakery
Le Lee's Baked Goods "home of the world's most outrageously delicious rugelach"
Jacob Restaurant soul food & salad bar
World-famous circa 1934 Apollo Theater

The Historic Apollo Theater in New York's Harlem Neighborhood

Cecil Harlem – AfroAsianAmerican cuisine
Madiba Harlem – South African food & live music
and many more unforgettable Harlem sites
The licensed, professional New York City tour guides (historians, artists, architects and other lively locals) give each small group rich architectural commentary, historical facts, local culture and culinary insight
For a bevy of of glowing recommendations of Taste Harlem Food & Cultural Tour, click here to check out Tripadvisor.
Think about . . . . .
Chicken & waffles
Oxtails, flan, mac & cheese
Yellow rice & red beans
Peanut butter stew Maffe
Collard greens & black-eyed peas
Ribs, corn bread, candied yams
Taste Harlem Culture and Cuisine Tour
Have you been on a cuisine- or culture-focused tour in Manhattan?