Planning to be in Mexico this year or next? If so, this Mexico City Markets and Culinary Tour could well be the highlight of your visit, especially if you're a foodie and/or a cook. The creator of Inside Route tours and a popular chef and cooking teacher at Casa de Cocinas in San Miguel de Allende, Michael Coon is famous for his culinary-focused expeditions.
His close relationships with top restaurant chefs around the world, and long dedication to the traditional ingredients, the marketplaces and the recipes of Mexico, are among the unique elements of his lively tours. Coon also works with the excellent Culinarian Expeditions tour company, which offers culturally immersive, food-related tours both in Mexico and in Italy.
A few highlights of Mexico City Markets and Culinary Tour: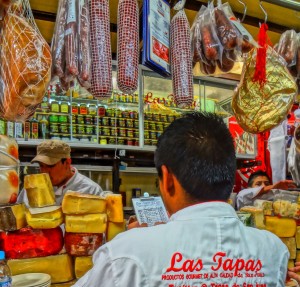 Marketplaces:
Mercardo Roma: chic new foodie hot spot in the hipster neighborhood of La Roma, recalling trendy marketplaces in the U.S. like Manhattan's Chelsea Market. A vertical garden is the backdrop to communal tables where diners dig into artisanal delights from more then 5 dozen vendors of local produce and prepared foods.
Mikasa Japanese Market and Grill: where in-the-know local foodies come for Asian ingredients and savories to take away.
Mercado San Juan: a showstopper, one of the greatest marketplaces on the planet, called the "Chefs' Market" because of the wide range of meat, fish, cheeses, fruits and vegetables. (Coolers are on board to keep your purchases fresh.) Look for Productos Oaxaqueños to pick up everything for mole.
Jamaica de Mercardo: a glorious market with more than 1,000 vendors selling fresh flowers and ornamental plants (and some unique piñatas).
La Nueva Viga Fish Market: in Colonia San Jose Aculco, the world's second largest seafood market (second only to Tokyo), from scallops, oysters and clams, to giant stingrays, shark and shrimp (and great empanadas and tamales to take home).
Molineria El Progreso: stacked to the ceiling, amazing displays of mole pastes and powders, spices, nuts, seeds, and mixes.
Eateries:
Maximo Bistrot: chef/owner Eduardo García, formerly of the inestimable Pujol and Manhattan's world-famous Le Bernardín, welcomes you to a cooking demonstration and lunch. Diner's Club calls the restaurant among the "World's 50 Best Restaurants, and the chef as "one of the leaders of a new wave of restaurants helping to put Mexico City on the world's culinary map."
Quintonil: in the tony Polanco district, one of Mexico's most lauded new chefs, Jorge Vallejo prepares a 10-course tasting menu combining indigenous ingredients with contemporary cooking techniques to create modern Mexican cuisine.

Sanborns restaurant in the 18th century Casa de los Azulejos
Photo by Michael Coon

Sanborns Casa de los Azulejos (House of Tiles): the patio of this 18th-century, tile-bedecked palace houses one of the city's most famous restaurants, the flagship of the Sanborn's restaurant chain.
Historic and architecture tour: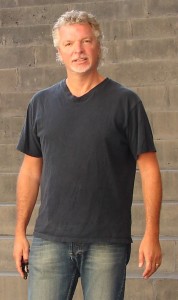 Michael Coon has extensively explored Southeast Asia, the Mediterranean and Latin America, traveling with top chefs from around the world while directing the International Travel Programs at The Culinary Institute of America (CIA). Residing in San Miguel de Allende, Mexico, he is the creator, chef and teacher at Casa de Cocinas, a popular food and travel discovery center specializing in cooking classes, culinary tours and private events. Coon founded the Calle San Miguel Street Food Fest for Feed the Hungry San Miguel, and has also consulted for General Mills, Bosch, Sur la Table, and Mondavi, Sebastiani and Beringer Wineries, among many other food and wine companies.
Mexico City Markets and Culinary Tour
A sampling of what a 2017-2018 tour may include:
3 days/2 nights culinary and market tour of Mexico City
Contact: 707-254-9650, insideroute@aol.com
2 nights accommodations including breakfasts at the delightful B&B, The Red Tree House, in the lovely neighborhood of Colonia Condesa.
Private transportation to and from San Miguel de Allende
Lunch and dinners by some of Mexico 's foremost chefs
Shopping at the city's most diverse Asian, seafood, flower and culinary markets
Two museum passes
Which culinary-focused tours have you enjoyed? Love to hear about your foodie adventures!