Specializing in learning excursions for 55 and older travelers, Road Scholar offers The Maya and More: History and Culture of Honduras, Guatemala and Belize, a rich itinerary highlighted by expert-led tours of the spectacular Mayan archeological sites of Copan, Tikal, Cahal Pech, Lamanai and Xunantunich. In the towns and villages of Honduras, Guatemala and Belize, travelers learn from nearly a dozen lectures and daily guided tours by authorities in the fields of ancient and contemporary Mayan art, architecture, lifestyle and science.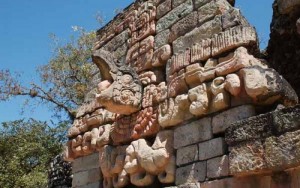 A sampling of the jam-packed itinerary of The Maya and More: History and Culture of Honduras, Guatemala and Belize
Healing methods and herbal medicine of the Maya
Chichicastenango marketplace
Lakeside villages of Santa Catarina, San Antonio Palopo and Panajachel.
Discussion of Guatemala, Antigua's history and architecture, Mayan life, textiles, religious practices and the origin and evolution of Mayan music.
San Antonio weaving cooperative
Casa K'ojom Research Center and Museum inside Centro Cultural La Azotea
Walking tour of UNESCO World Heritage site of Antigua's old town and colonial churches
Maya and Catholic religion and agriculture practices of the modern Maya.
Scenic boat ride, indigenous bird sightings
Interpretation of Classical period of Mayan hieroglyphics, stelae, medicine and "sacred" cacao
Museum of Mayan Culture, Las Sepulturas
Traditional chocolate production, visit a local school
In 2013, around 100,000 people, from seniors to grandparents and their college-age grandkids, took trips in every state and 150 countries with the nonprofit Road Scholar (formerly Elderhostel), which this year marks its 40th anniversary. Read here a short interview with Road Scholar CEO.
Details of The Maya and More: History and Culture of Honduras, Guatemala and Belize
14 nights, all meals
$3,285 pp varies based on date, departure city
Departures: Fall 2015 through Spring 2016
Activity level: moderately challenging
Comprehensive travel insurance included