You know that a bike trip in Europe has always been on your bucket list! The good news: 2018 is the year to take advantage of lower airline fares to Europe, and the popularity of cycling tours––so many from which to choose. Here are four carefully curated bike tours offered by top-of-the-heap, trusted companies whose clients return year after year.
One of the best bike tour companies on the planet, Ciclismo Classico receives so many awards it's hard to fit them onto one page. Their "Northern Portugal" biking adventure blends moderate days of pedaling with rich cultural experiences, and plenty of fabulous food and wine.
Balona to Monçao, capital of legendary Portuguese white wine.
From Minho river valley to the Lima Valley through forests, vineyards, and villages.
Meander the Lima and Douro River valleys.
UNESCO town of Guimaraes, the 2012 Cultural Capital of Europe, with a 10thC castle and medieval architecture.
Private vineyard and winery tour with vintner of some of Portugal's best wines.
Romanesque town of Amarante, crossing the stone bridge across the Tamega.
On the Douro River estuary, an outpost of the Roman empire, the UNESCO city of Porto, famous for its picturesque, medieval riverside district, palaces, baroque churches, Art Nouveau cafes, and Mercado do Bolhão food market –– better extend your stay.
June – September 2018, from $4,895 pp.
Your Ciclismo Classico carbon bike comes equipped with Garmin Edge Touring GPS, and, of course, van support. Expert guides conduct cycling clinics covering beginner and advanced instruction in gear shifting, cadence, positioning, climbing and descending. You'll also get one-on-one coaching every day if you wish, and language lessons, too.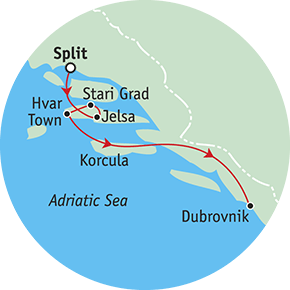 Voted "best tour operator in the world for family travel," Austin Adventures designs kid-friendly activities into some of their bike tours in Europe. "Croatia & the Dalmation Coast for Families" is a culture-focused bike trip along the Dalmatian coast of Croatia with plenty of time out for swimming in the Mediterranean, kayaking, a cooking class, and spooky castles that youngsters love to explore.
Founded in the 7thC, built on Roman ruins and heavily impacted by Central Europe's tumultuous past, Croatia is loaded with ancient architecture and historic sites along that spectacular coastline. Besides easy biking most days, here are a few highlights of the "Croatia Family Dalmatian Coast" itinerary:
On Hvar Island, the harbor town of Stari Grad, Tvrdalj castle, Bianchini Palace and a Dominican monastery.
Pedal around Mina Bay to Vrboska, known as "Little Venice" for its many bridges.
Renaissance Church of Saint John in the village of Jelsa, the 16thC church of Saint Mary of Charity, and the Renaissance works of Veronese and Bassano at the Church of Saint Lawrence.
Sea kayak the calm waters around the Pakleni Otoci islands, build sand castles at Lumbarda beach.
Cruise by private boat to the medieval walled town of Korčula.
On the Pelješac Peninsula, 15C Franciscan monastery.
Historic villages of Lumbarda, Žrnovo and Račišce.
Explore the UNESCO World Heritage city of Dubrovnik.
"Croatia & the Dalmation Coast for Families" June, July and August 2018. 6 days, $3,698 pp; $2,958 to $3,328 for children.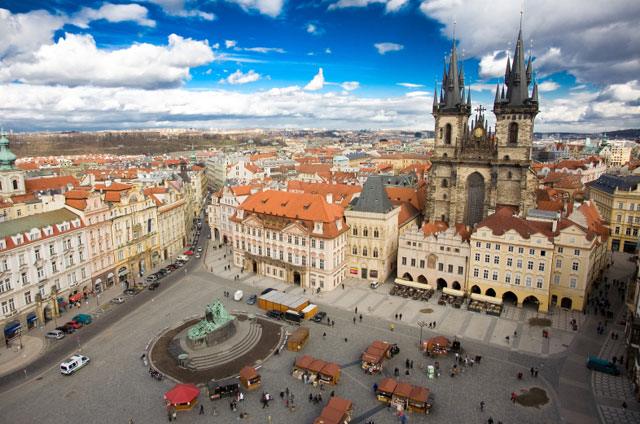 One of the premier luxury-level active tour companies in the world, Butterfield and Robinson always sells out their guided bike trips, so now is the time to consider "Berlin to Prague" for 2018. From the urban thrill of Berlin to the UNESCO World Heritage city of Dresden, into the countryside of Swiss Saxony, and the Elbe and Vltava River Valleys, you will meander on mostly flat terrain along a network of rivers through leafy forests and quiet lanes. With local guides, you'll explore the medieval cities of Cottbus and Melnik, the Baroque city of Meissen, and follow the Vltava bike path all the way to Prague, to explore that city on foot. May – September 2018, from $5,195
In business for more than 50 years, Butterfield and Robinson specializes in biking and walking tours, with luxe amenities like castle hotels, great wines and exceptional culinary experiences; exclusive, private "insider" tours of historic sites; all with 24/7 support, and guides who are professors, scientists, artists, chefs and local experts.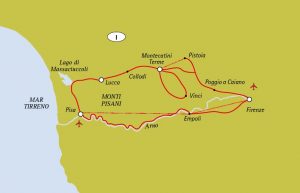 Freewheel Holidays well-priced, self-guided bike tours promise easy, mostly flat cycling. Their "Pisa to Florence" route is primarily on sylvan paths and smaller roads between Pisa, Lucca, and Florence, with two rest days to explore the cultural sites of Lucca and Montecatini. A few features of the Pisa to Florence itinerary:
Bike from Pisa along the River Serchio to the 16C walled city of Lucca (Puccini museum, Museo Nazionale di Palazzo Mansi, the Ducal Palace, Piazza dell'Anfiteatro.
The town of Pesci for Renaissance churches and palaces, and the flower market.
Villa Garzoniin in the village of Collodi.
Relax in the old spa town of Montecatini, get lost in the winding cobblestone lanes, and take the funicolare for zowie views of the entire region!
The Romanesque and Renaissance delights of Pistoia.
Magical Florence!
7 days from $865 pp double.
Freewheel Holidays offers more than 40 affordable self-guided biking tours across Europe, and fully-guided tours in Croatia, France, Italy and Prague-Vienna. Accommodations are in smaller inns and/or B&Bs, and included are bike rental, luggage transfers, route maps and notes, enroute assistance, and host welcome and informational presentation.
Which bike tour companies do you recommend?
Love to hear of your biking adventures in Europe — where will you go next?