Every year, the title "European Capital of Culture" is awarded to two cities in EU member states. For 2015, it's the architecturally spectacular city of Pilzen in the Czech Republic (and the city of Mons in Belgium). Just 90 minutes from Prague, a daytrip or a weekend in Pilzen makes a great addition to your stay in Prague.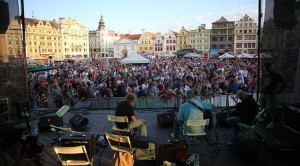 Founded in 1295 at the confluence of four rivers, the West Bohemian city of Pilzen (Plzeň) is famous for its beer and for an architecturally spectacular town center with a 13th century Gothic cathedral, a Renaissance city hall, many Baroque-style buildings, a Franciscan monastery, and many more buildings dating to several centuries. Filling the entire Capital of Culture year of 2015, Pilzen welcomes you to more than 50 major cultural events and 600+ concerts, exhibitions, festivals, and theater and musical performances. The opening ceremony on January 17th will begin with the ringing of the four church bells returned to St. Bartholomew's Cathedral more than 70 years after Nazi occupiers confiscated them and had them melted down. Heart-stopping suspense will be delivered by the Swiss tightrope walker David Dimitri, who will be accompanied by other Czech and international artists and acrobats. 2015 Capital of Culture will feature more than 60 performances of Le Cirque Nouveau
Throughout the year, Capital of Culture 2015 events will include:
"Train to Culture" between Pilsen and Regensburg with musicians, artists mimes, writers & storytellers
A glimmering festival of light
6 weeks of Baroque art exhibitions and performances
Celebrations of the 70th anniversary of the end of WWII
Hundreds of contemporary art and design exhibitions
"Culture Factory" in the historic Světovar brewery
Neighborhood festivals, a gymnastics festival
and so much more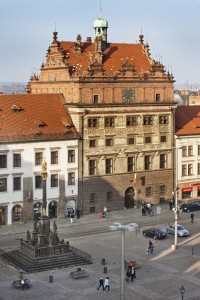 Around the vast and photogenic Republic Square, you'll find the Tourist Information Centre, where you can arrange guided tours of the main sights through Irena Benesova (Irena.benesova @ icpilsen.cz)
Museum of West Bohemia in a Gothic-Renaissance house.
Circa-1500s Renaissance Town Hall
St. Bartholomew´s Cathedral, and Franciscan and Dominican monasteries
Third largest synagogue in the world
Museum of monsters, fairy tales, myths and legends
At
George Patton Memorial Museum
, see dramatic exhibitions of the 1945 liberation by the U.S. Army of the former Czechoslovakia, with depictions of air-raid campaigns, post-war economic aid provided by UNRA; the period of the totalitarian regime from 1948 – 1989 and more.
Stay tuned here to 2015 European Capital of Culture: Pilzen, Czech Republic.