Beyond the swimming pools, the palm trees and 200+ golf courses, the surprises of the sprawling, adjacent cities of Phoenix and Scottsdale are the abundant and rather flamboyant expressions of art and culture, from literally hundreds of outdoor art installations to truly unique museums and historic sites. When I arrive in Arizona's "Valley of the Sun," I first settle into a lounge chair with an umbrella-topped libation in hand, and wonder how I'll manage to get around to all the cultural attractions.
Museums in Phoenix and Scottsdale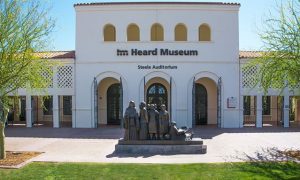 In twelve expansive galleries, the Heard Museum displays more than 40,000 pieces of fine American Indian art and cultural artifacts. The Courtyard Cafe is a great place to have an invigorating coffee drink before setting off to see the huge collection of rare Native American textiles, beadwork, basketry, ceramics and sculpture.
Opening in September, the "Through the Lens of Barry Goldwater" exhibition is based on his rare color slide collection, comprising some of the earliest color landscape photographs of the Navajo and Hopi tribal lands, the state of Arizona, and geographical areas that have long disappeared since the creation of Lake Powell. And in October, "David Hockney's Yosemite and Masters of California Basketry" features the impact of Yosemite on artistic production, from the valley's Indigenous inhabitants to one of the most celebrated artists of modern times.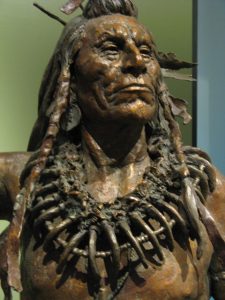 An impressive new bastion of cowboy culture, Western Spirit: Scottsdale's Museum of the West is filled with paintings, sculpture, artifacts and interactive exhibits from across the Western states. Maynard Dixon's 1935 mural of Kit Carson's mountain men leads the way to depictions of the Lewis and Clark expedition, to the works of Arizona artist John Coleman and those by Charles M. Russell, Fritz Scholder, Allan Houser; and to vintage saddles, spurs and ephemera that illuminate the lives of the cowboys. Step up for selfies in front of the Western Spirit Trail 3D murals, and don't miss the gift shop for Native American-made art and apparel, and cool cowboy stuff!
Phoenix's #1 attraction, unlike any cultural institution in the world, the Musical Instrument Museum showcases more than 6,000 instruments and music memorabilia in riveting, interactive audio-visual displays. Visitors see, hear, and feel the vibes of such icons as Johnny Cash, Elvis, Taylor Swift, and traditional music from around the world. Among special exhibitions now open are The Electric Guitar: Inventing an American Icon.
Once when I visited here, by chance, Judy Collins was performing. We sneaked into the back of the small theater and listened to her ethereal voice––as pure and as crystalline as ever.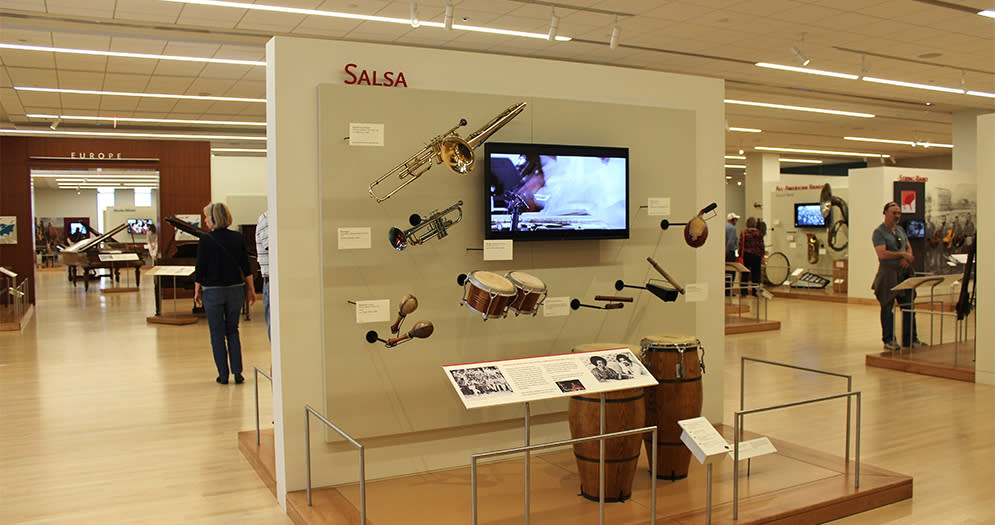 The 70,000-square-foot MIM covers two floors, so plan to spend a day wandering the many galleries, with a leisurely break for lunch at the on-site restaurant. Visitors are encouraged to immerse themselves in a sound-and-sight experience using state-of-the-art audio and video equipment. Wireless headphones activate the audio/video content as you approach each exhibit, a unique system allows you to watch and listen as the instruments are being created, played in a variety of settings, and used in their cultural context.
Adjacent to Sky Harbor Airport, the Pueblo Grande Museum and Archaeological Park lies on an ancient Hohokam archaeological site. A short walking trail leads to a platform mound, a ball court, and replicated dwellings, and to galleries of pre-Columbian and Native American artifacts focused on the peoples who lived the area from A.D. 450 to 1450, and the archaeological methods used to learn about these ancient farmers of the Salt and Gila River Valleys.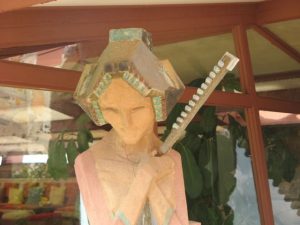 Today a National Historic Landmark, Taliesin West was, 1937-1959, the home of Frank Lloyd Wright and his protégées, who hand-built a sleek, revolutionary-in-style complex of homes and studios at the foot of the looming McDowell Mountains. A must for first-time visitors, best booked in advance, the uber-popular 90-minute guided tour is all about Wright's influence on architecture throughout the surrounding region and the world.
I had the rare and enlightening experience of a "back of the house" private tour of Taliesin with Arnold Roy, a long-time resident architect and a former student of Frank Lloyd Wright. Here he talks about the revolutionary early days at Taliesin West.
New "Night Lights Tour" at Taliesin: a fire-breathing dragon makes an appearance as starry skies create a romantic atmosphere (this Sat-Sun tour is not recommended for children under 13; make a res.)
Southwestern Art Alfresco
The Arizona Science Center, the historic 1895 Rosson House Museum and a collection of restored historic homes and buildings (some housing restaurants and bars) comprise Heritage & Science Park in downtown Phoenix. The leafy park is also known for a busy calendar of annual ethnic festivals and events.
A veritable outdoor Southwestern art gallery and museum, the Scottsdale Public Art Collection includes more than 100 sculptures and installations. A self- or audio-guided tour shows off such works as the kaleidoscopic mirrored panels of Donald Lipski's "The Doors;" Robert Indiana's LOVE sculpture, and equestrian bronzes such as the life-size Hashknife Pony Express and the Arabian Horse Fountain
Anchoring the canal waterfront, designed by Italian architect, Paolo Soleri, steel-clad, 64-foot-high pylons create a moving shaft of light over the Soleri Bridge and Plaza, made magical by the soft sounds of his world-famous bronze bells. (Soleri fans visit his gallery and studio at Cosanti to watch the fiery casting of his windbells, "must have" souvenirs of Scottsdale.)
Led by one the city's top tour guides and a true culture vulture, Ace Bailey, the free, two-hour Local Motion Cultural Tour, by trolley, starts at 10:30 a.m. on the second Saturday of every month; reservations are required. This an easy ramble to scenic and historic sights, from the Old Adobe Mission church to the gallery and arts district, to myriad works of art in the Scottsdale Civic Center park, and to the iconic '50s-style Hotel Valley Ho.
Touring the Arts Districts with Ace Bailey
A long-time resident and art/culture expert, Ace also offers a variety of private and group art, architecture and Native American tours through her company, Ultimate Art & Cultural Tours. She has insider connections with artisans, historians and other local luminaries who have known and loved her for years, and go out of their way to meet with her clients.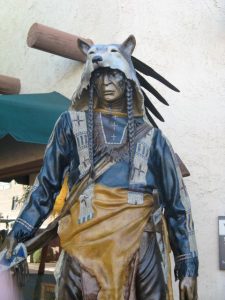 On one of her tours in the Old Town arts district, at Expressions Gallery, we met with Dave McGary, whose monumental Native American figures in bronze are in the Smithsonian and the White House and throughout the West in state capitol buildings, museums and other public places. Standing tall at the entrance to the gallery are two goose-bump-producing, life-size, bronze Native American figures: "Rain in the Face" and "American Horse."
Also on Main Street in Scottsdale, the River Trading Post specializes in contemporary and vintage American Indian art. Travel + Leisure magazine named it one of the "Top 5 Native American experiences" in the Phoenix area. Old oak floors and a tin ceiling create a warm environment for dazzling works, from antique Navajo weavings to pre-Columbian pottery, jewelry, sculpture, Kachina dolls, and pottery by today's world-famous artists.
One of my favorite experiences with Ace was when she took us to meet the doyenne of Cattle Track Arts Compound, Janie Ellis, who spun tales of family life on the historic ranch, which was established on the outskirts of Scottsdale in the 1930s, and is open to the public for tours. On the National Register of Historic Places, Cattle Track is a cluster of busy workshops inhabited by architects, printmakers, a blacksmith, a jeweler, and a ceramist, among others. The ranch has a long and glorious history of resident artists such as Fritz Scholder, world-famous for his Native American paintings, and the abstract expressionist Louise Nevelson.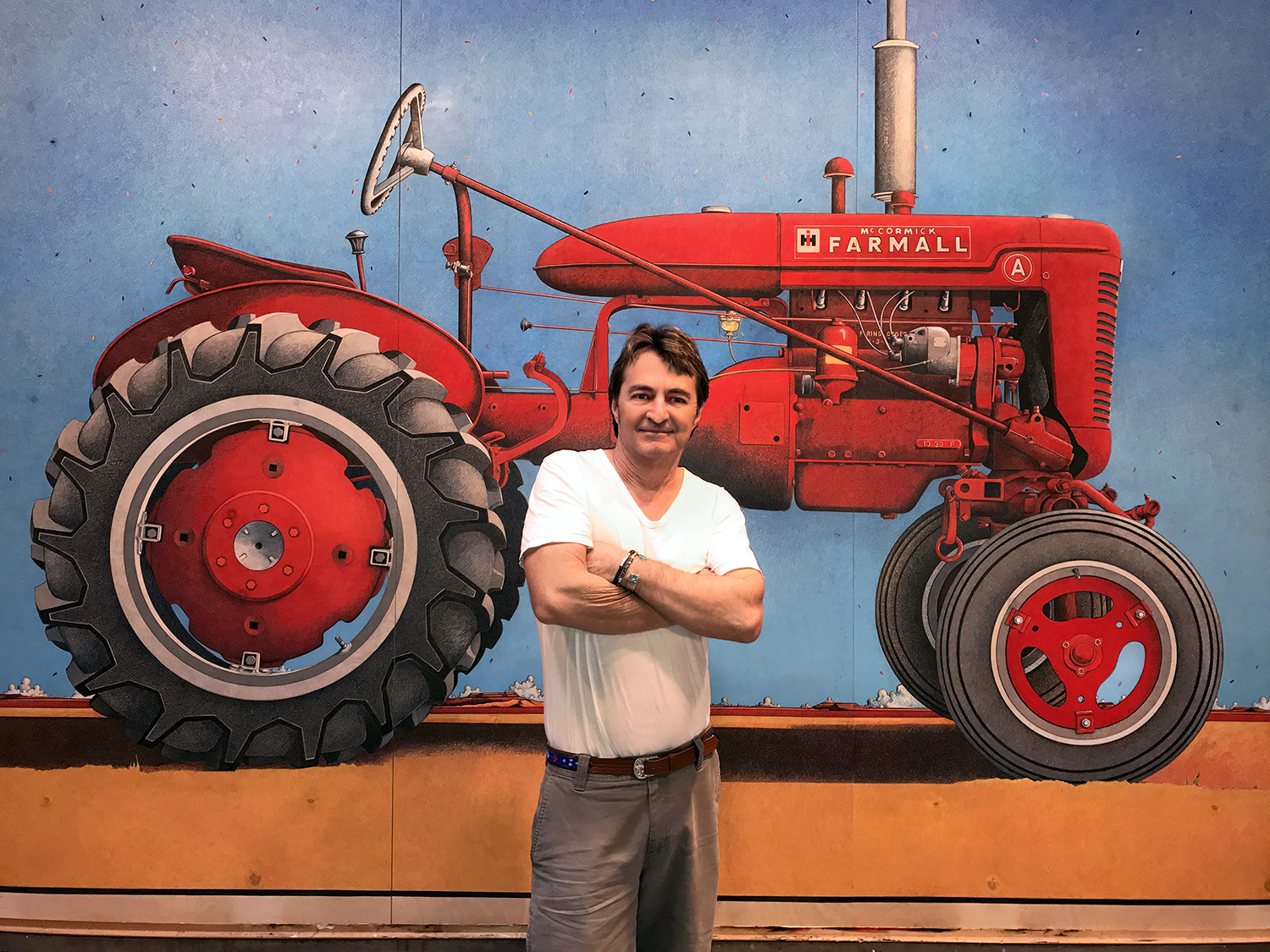 Phoenix and Scottsdale Hotel Art Collections
A visit to one of the Phoenix or Scottsdale luxury resorts often turns out to be a cultural experience. Paintings by legendary cowboy artist, Lon Megargee, are on view at the Hermosa Inn, which is a 1930s-era architectural showplace in itself. At the Westin Kierland Resort & Spa, visitors watch Cuban artist, Nelson Garcia-Miranda, create his exciting works most evenings. Take a stroll around the public spaces at The Phoenician resort, home to a $25 million art collection, including a dozen dramatic sculptures by renowned Native American contemporary artist, Allan Houser.
It's a short roadtrip through dramatic desert landscape to Four Seasons Scottsdale at Troon North to see extensive fine art installations, and, cocktail in hand, to watch the stars come out over the Valley of the Sun.
The Hotel Valley Ho's Mad Men-era architectural style is the brainchild of Edward Varney, an apprentice of the godfather of American architecture, Frank Lloyd Wright. Varney's minimalistic architecture and hip, colorful interior attracted Hollywood stars in the late-'50s and '60s. Natalie Wood and Robert Wagner were married there; Zsa Zsa Gabor rode horses around the property during her stays, and even Bing Crosby escaped to Valley Ho. Step back in time and saddle up at the bar for a dirty martini!
Travel & Leisure calls The Boulders "The Best Hotel in Arizona," known for boulder-strewn golf courses and luxury-level lodgings and spa, all set in a dramatic desert environment. It's worth a short drive to the resort to see saguaro cacti and the stunning desert setting, visible from public areas and the restaurants. At their Gallery at el Pedregal, on view and available for purchase is a changing, juried collection of fine art paintings and sculpture, art glass, and jewelry, all by local artists and artisans.
Art Walks for Culture Vultures
in Phoenix and Scottsdale
First Friday A.R.T.S Market: on Roosevelt Row in Phoenix, hop on and off the free shuttles to tour 70+ galleries, outdoor venues and art-related spaces to see and purchase fine art, handmade crafts, vintage memorabilia, and culinary delights. A.R.T.S Market comprises dozens of galleries and vendors, live music, restaurants and food trucks.
On the first Friday evening of each month, the Heard Museum opens its doors for a party; admission is free, live music and special artisan events ensue, and food and drink are enjoyed. And in March, the museum hosts the annual Mercado de Las Artes, complete with strolling mariachis and a lively marketplace with Hispanic artists from Arizona, New Mexico and Mexico.
Scottsdale ArtWalk is weekly on Thursday evenings: a festive open house on Gallery Row in the Scottsdale Arts District, primarily along Main Street and Marshall Way, between 7 – 9 p.m. It's a lovely route dotted with dramatic outdoor sculpture, bubbling fountains, tree-shaded courtyards, eateries with leafy patios, with horse-drawn carriage rides, and trolley rides. Several times a year, the total immersion art experience is enhanced with live music and entertainments.
Art-Centric Annual Events: January through March, the Celebration of Fine Art pitches massive white tents in North Scottsdale where more than 100 nationally renowned artists set up working studios to create art while you watch. Other popular events include the Waterfront Fine Art & Wine Festival in February; Scottsdale Arts Festival in March; and Arizona Musicfest, which hosts performances from November through March.
If You Go
VisitPhoenix.com and ExperienceScottsdale.com are the online hubs for places to stay and eat, and major attractions, arts, events, and outdoor activities.
Phoenix Rising Tours offers a History & Culture Trolley Tour; the Art & Mural Bike Tour, and "Step-On" guided tours in Phoenix.
Ultimate Art and Cultural Tours local expert, Ace Bailey, has personal connections with artisans and historians, and offers a wide variety of group and private tours.
What are your favorite resorts,
art venues and cultural attractions
in Phoenix and Scottsdale?