South of the San Francisco Bay Area, just below the legendary Big Sur stretch of Highway 1, California's Central Coast has sunny, sandy beaches and more than enough historic sites and cultural riches for a weekend adventure. A drive from Ragged Point south to Morro Bay turns up quaint villages and seaside towns, a Victorian-era lighthouse, and lots to do, from wildlife watching to seafood noshing, hiking, biking, paddling, and wandering along the gentle coastline––and a "must-do" tour of Hearst San Simeon State Historical Monument.
Ragged Point is a good place to start, where a high blufftop vista point affords dazzling views north up the Big Sur coast and south to the tower of the Piedras Blancas Light Station. On a narrow finger of land jutting into the Pacific, built in 1895, the 100-foot-tall lighthouse lies amid wildflowers and open fields, a carefully restored navigational landmark. The historic building is open to guided tours on weekday mornings.
Along the edge of the small bay below Point Piedras Blancas is the southernmost resting place in California for Northern elephant seals––a startling sight in the wintertime when the immense, grunting animals gather in the dozens to mate and give birth. You can watch them from both ends of the highway parking lot, on viewing wheelchair-friendly walkways, along with the usual gang of tourists armed with binoculars and cameras. Not far offshore is another lively gang––sea lions and harbor seals that haul out and drape themselves over the rocks.
Down the road a bit, directly across the road from Hearst Castle, William R. Hearst Memorial State Beach invites a walk on the fishing pier and a swim in the calm waters of the cove, which is protected from wind and surf by San Simeon Point. For the energetic, kayaks and boogie boards can be rented right here. Nearby are picnic tables and BBQs, and what's left of the village of San Simeon, comprising the circa-1850 Sebastian's General Store, an old schoolhouse, and a marine education center.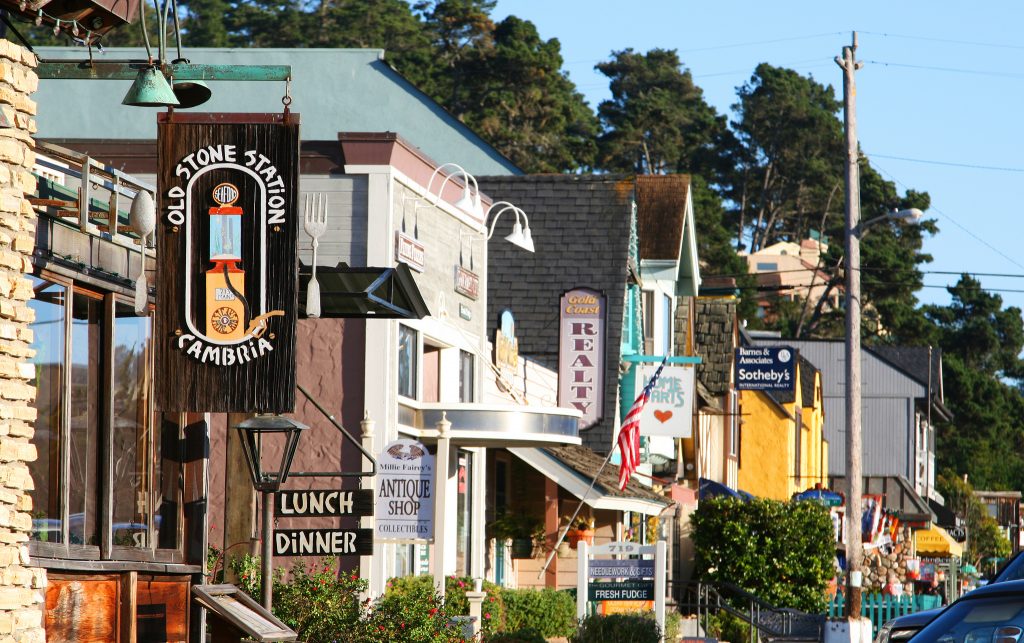 Historic Seacoast Villages
Anchoring this section of the coastal highway in a Monterey pine forest, the picturesque little town of Cambria was once the home of miners, loggers, farmers and whalers. Today, it's a community of artists and craftspeople who reside in garden cottages and circa-1870 wooden houses on Main Street, where art galleries and small boutiques attract shoppers.
Another fishing pier runs out across Cayucos State Beach, a popular spot for surfing and tidepooling. Looking rather like a Western movie set, the village of Cayucos is distinguished by not much except a few antiques shops, and a colorful cacophony of building-sized murals––on the hardware and grocery stores, the surf shop, the elementary school, and inside the Old Cayucos Tavern, among other locations.
Monumental Morro Rock and Morro Bay

From 2-mile-long Morro Strand State Beach, you will see the dark, looming shape of Morro Rock, the California version of the Rock of Gibraltar. Guarding the mouth of Morro Bay, a sailor's landmark and a nesting site for peregrine falcons, the craggy, 576-foot-tall peak is the seventh in a line of 50-million-year-old volcanic plug domes called the "Seven Sisters," that march from here, east across the inland valleys. At the base of the rock, daytrippers enjoy the sea views, and picnic on the waterfront in Coleman Park, which is complete with a basketball court and a playground.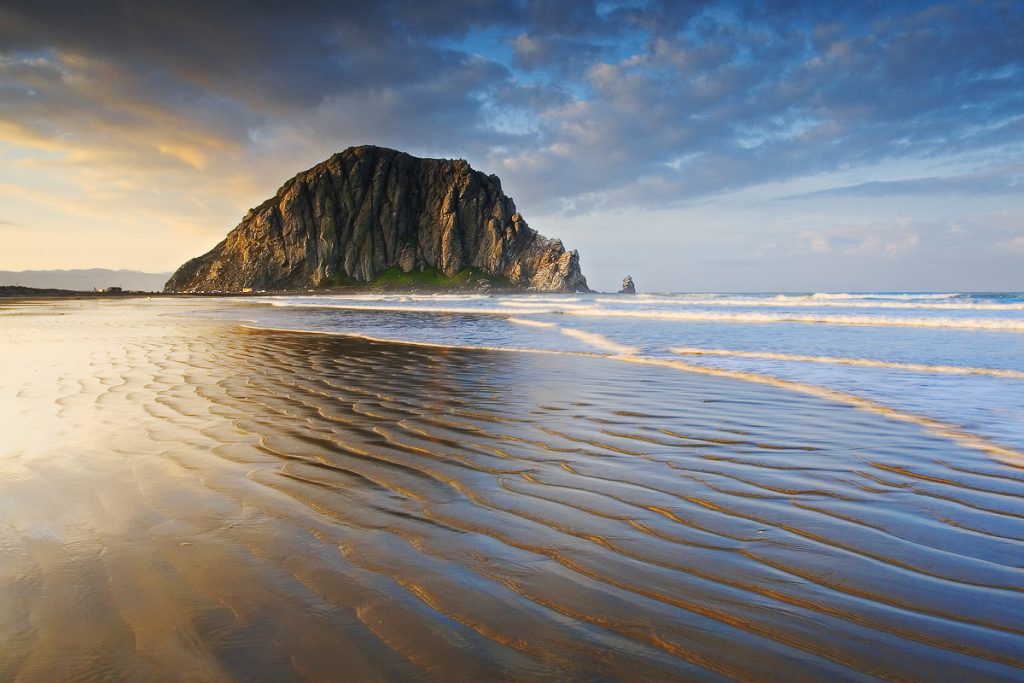 One of few natural coastal estuaries still existing in this country, Morro Bay is nearly enclosed by three-mile-long Morro Dunes Natural Preserve, a skinny, duney stretch where thousands of birds, including endangered and threatened species, nest and overwinter. Western snowy plover and Least Tern nests are protected, and the estuary is a Great Blue heron rookery, and a nursery for newborn sea creatures such as rays, sharks and fish.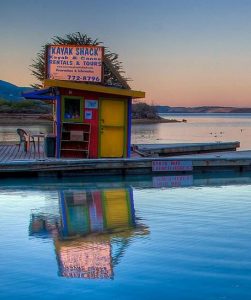 Morro Bay is best enjoyed from a human-powered vessel, soon after dawn when the air is cool and the birds are active in the mud flats and tidal wetlands. Small fishing boats move with the tide as it trickles out through the mouth of the bay. Birdwatchers and photographers paddle quietly out in kayaks and canoes, to see Snowy egrets and Black-crowned night herons standing motionless in the eel grass and pickleweed marsh, while loons, grebes and teal float between the dense grasses, searching for insects. Blue and white belted kingfishers dive into the shallow waters for small fish, and, curious and bold, harbor seals, sea lions and otters bob up closeby the paddlers.
Laid out all along the western edge of the bay, the town of Morro Bay anchors this entire section of the Central Coast. Once here, you can park the car, check into a hotel or motel, and dig into fresh seafood in myriad waterfront eateries, then wander around to beaches and parks along the Embarcadero. Tidelands Park is a pleasant spot from which to contemplate the sea, have a picnic, rent and launch canoes and kayaks. From here you can walk to the Morro Bay State Park Museum of Natural History, which stands on a hill overlooking the estuary. Interactive exhibits enable would-be bird-watchers and kids to see up close and learn about the wildlife of the region.
On this end of town, fronting directly on the bay, the newly renovated Inn at Morro Bay offers waterfront rooms, a bar and restaurant, and a viewing deck with vast water views. On the grounds, Great Blue herons fly to and from the huge nests of their rookery in the pine grove. In the green headlands above the inn, the Morro Bay Golf Course is an affordable, impeccably maintained track that has been designated an Audubon Cooperative Sanctuary, providing habitat for birds and other fauna. Guests at the inn, and those in the know, come to the clubhouse for casual lunches on the enclosed deck, which has golf course and sea views.
On around the estuary, South Bay Road leads to an RV and tent campground, to a mysterious "Elfin Forest," and to Montaña de Oro State Park, a wild area threaded with about 50 miles of hiking, biking and equestrian trails in the low hills and among scrub-covered dunes and the riparian stream canyons. Vehicle pullouts make it easy to enjoy estuary and open ocean views and whale-watching, while footpaths access Morro Dunes Natural Preserve. From here, Los Osos Valley Road rambles through agricultural lands to Highway 101 and a few minutes south to the historic seaside village of Avila Beach, pastel-hued and perfect as a postcard, perched on San Luis Bay. But that's another story. . . .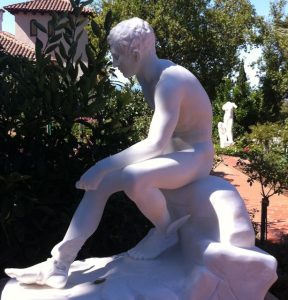 A Castle in the Sky
Plan a day at Hearst San Simeon State Historical Monument, also known as Hearst Castle. In a stunning setting in the Santa Lucia Mountains overlooking the Pacific Ocean, this is a Mediterranean Revival-style palace and estate designed by famed architect, Julia Morgan, and built continuously between 1919 and 1947 for the pleasure-filled life of William Randolph Hearst, a stupendously wealthy San Francisco newspaper publisher, the Castle and grounds comprise one of the most spectacular estates in the world, the scene of legendary Hollywood parties in the 1920s and '30s.
Priceless European art and antiques fill 165 elaborately decorated rooms––from carved and painted ceilings to marble sculptures, Flemish tapestries, gilded chandeliers, spectacular indoor and outdoor swimming pools and hundreds more museum-like details and furnishings. Highlights are neo-classic statues of "Venus Emerging From the Bath," and Antonio Canova's famous "Venus Italica;" gilded tables and chairs from the French Empire period; 15th and 16th century Flemish tapestries, and a priceless Reubens tapestry.
Sprawling Mediterranean gardens, terraces and fountains create a tropical paradise on the mountaintop, with wide views of the sprawling estate and the sea below. White marble statuary gleams against citrus trees and palms, and magnificent valley oaks, while vivid bougainvillea cascades over the jewel-like guest houses.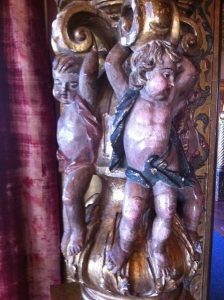 The swimming pools are legendary. Brilliant cerulean-colored Venetian glass and hammered gold tiles sparkle from the bottom of the Roman Pool, where alabaster lights top the marble columns, illuminating Roman gods and goddesses. And, the white marble, 104-feet-long Neptune Pool is heralded by a Greek-style temple and a columned loggia, overlooking a vast expanse of sparkling turquoise water.
At the entrance to the estate, near the highway, a large visitor's center includes several shops, food outlets, a free introductory film, and a tour desk where many types of tours can be booked; it is advisable to book Hearst Castle tours well in advance online.
What do you love most about California's Central Coast?
Love to get  your recommendations!